F-One

-

Bandit 5 V 2012 Kite
Test
Brand new!
F-One Bandit 5 (V) 2012 Kitesurfing Kite

Since the first generation Bandit we have been committed to offering one single kite in our range. Our goal is not to offer just a versatile kite but rather the best kite for each discipline and style of rider, from the beginner to the pro athlete.

To be successful in all areas is a real challenge from an R&D perspective; this process is proving to be much more complex than developing several highly specialized kites. The most difficult challenge faced with the Bandit 5 was to improve from the Bandit 4 in all areas without losing any of its qualities - an extremely tough call that is ongoing.

Sizes: 5m, 6m, 7m, 8m, 9m, 10m, 11m, 12m, 14m
Kite Only Prices:

2012 F-One Bandit 5 5m £740
2012 F-One Bandit 5 6m £770
2012 F-One Bandit 5 7m £820
2012 F-One Bandit 5 8m £860
2012 F-One Bandit 5 9m £920
2012 F-One Bandit 5 10m £950
2012 F-One Bandit 5 11m £990
2012 F-One Bandit 5 12m £1050
2012 F-One Bandit 5 14m £1100


2012 F-One Bandit 5 Airlite Bar and Lines 45cm and 52cm £299.95
Bandit Kites are Supplied without Pumps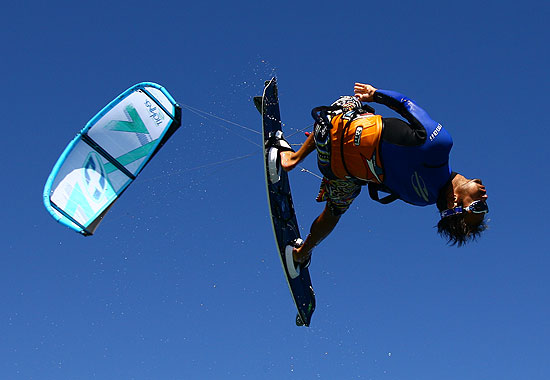 The specifications that we set for the Fone Bandit 5 in three words
Range

To further increase its range, we needed both a kite that you could easily power up in the low end and a kite that was even more forgiving in strong and gusty conditions.

Lightness
In order to improve its performance when under powered, and add to the ease of use at the bottom end its lightness was a priority.
Handling

To immediately position the kite where you want it, to precisely manage its rotation during a kiteloop, and to have the most responsive kite in larger sizes, its maneuverability is crucial. This is why we have focused our attention on this particular aspect.
TECHNICAL SOLUTIONS

The whole structure of the kite, its profile and its bridles have been reworked in order to achieve these goals. Its construction has also been fundamentally updated both in the choice and the distribution of materials and in the manufacturing processes.
Because the structure of a kite is soft, it can deform and twist allowing the kite to rotate. A fully rigid profile wing will not turn at all.
Therefore, maneuverability and responsiveness of the kite depends directly on its ability to twist, one important point that we have greatly improved on thanks to a thinner leading edge, a new 3-point bridle system and a new shape for the struts. All this to free the kites profile.Reducing the diameter of the leading edge, with almost 25% less air volume, brings an important gain in terms of weight and aerodynamics. The result is better performance in the low end, but in the also at the top end thanks to an improved handling thinner profile.
We have also gained in terms of set up comfort as the inflation time has been reduced.
A new type of flatter profile was employed. By reducing the profile curve depth it is easier to depower and keep control at the top end. In the low end, a flatter profile is more efficient when powered-up and fully sheeted in providing constant power.
The result is a better control of the kite aerodynamics, less lateral traction and less pressure and therefore effort through your legs and into the board when the wind picks up.Finally, some important work was undertaken on the bar feeling and pressure . The feedback from the bar provides you with constant information and lets you know what's going on allowing you to adjust the position, the pull and the speed of your kite in the wind window at any given time…
These sensations must be precisely delivered so you can receive them all without the steering becoming a physical burden. The B5 puts more effort through the harness and less through your
arms. The direct bar feeling allows for the transmission of all necessary information.
Each year, we test more than sixty prototypes in order to meet all our chosen criteria and we spend more than 120 days on the water to develop each new collection.
With the B5 we have largely achieved all our initial objectives over the B4. Lighter, more maneuverable and responsive ; the B5 is even smoother and ultimately more enjoyable and more effective regardless of the type of riding you do.
With the F.one Bandit 5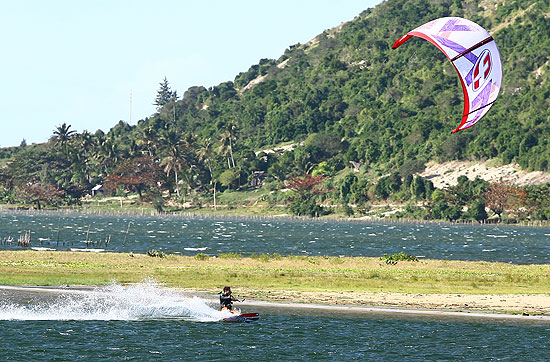 FREERIDERS

In all conditions you can enjoy all the benefits of the Delta and its natural relaunch ability, you will particularly appreciate its immediately available power and its comfort and control. The versatility of the kite is unique and allows everyone to excel in all disciplines. All our pro team riders, from the snow to wave riding, to the hard core PKRA and speed guys, everybody strictly uses production Bandit. Also used by some schools, the Bandit can follow your progression from your first day all the way to the pinnacle of your performance.
WAVERIDERS

In onshore conditions, light weight, maneuverability and depower capabilities are the B5's main assets. We gave particular attention to maintain the maneuverability even when depowered, which is so important in onshore surf conditions. Its power in the low end allows the use of a smaller kite. In offshore winds, control, finesse and ability to depower reduces the pressure on the board, allowing for a looser feeling with the board much lighter under your feet. With the B5 your board rides freer and is more reactive. Strapless, the progressive control of the power makes it easier to maintain your balance or to quickly reduce its traction, which is so important during the surfing phase. The new B5 ensures all transitions and airs are smoothly controlled.
FREESTYLERS

You will particularly appreciate its intuitive steering, better handling and lightness. During a jump, the timing is easy to find, with fine and constant control, it goes up to the zenith quickly and with all its aerodynamic performance its lift is also greatly improved. You always know where the kite is making it easy to make corrections.
FREESTYLERS NEW SCHOOL

You will precisely position the kite at the height that suits each of your moves. Unhooked, its lightness and fine control reduces the sideways drag allowing better control of the trajectory during the jump and delivering smooth power and constant pull throughout. Our goal was to achieve the perfect balance between the qualities of the C-Shapes and those of modern wings. The results exceeded our expectations. In the hands of our best freestylers, with the kite low we were amazed by the tweaked moves they were pulling, both in terms of commitment, amplitude and height.
Thanks to these qualities, you can commit to a kiteloop earlier than before on the way up. The Kiteloop is one of the areas where the improvement was the most impressive. The qualities of the profile, its handling and responsiveness allow a great gain in control, and being able to quickly get the kite to the zenith allows for smooth reception regardless of the commitment. Finally, for all the old school moves, the gain in lift will give you some valuable time to complete all your moves.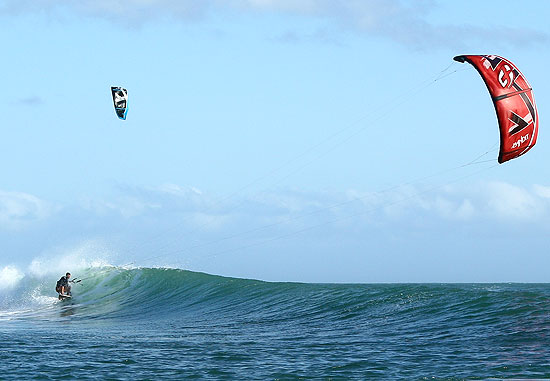 FEATURES:

One Pump Colllar Valve

- Easier to remove and put back.
- Practical during bladder replacement.
Kite Tuning:

2 different positions for back lines.
-
Front: more bar pressure, slower turning kite.
-
Back: lighter bar pressure, faster turning kite.
Kevlar Reinforcement on Leading Edge

Most seams on the leading edge are now reinforced with Kevlar to prevent the seams to deteriorate on aggressive ground friction.
Skin Reinforcement

Each skin sewing is reenforced on its front by a self-adhesive Dacron.
Safety System

The general safety system has been kept the same: UPS with Velcro quick release. The big advantage is its sand-proof nature. We regularly improve our safety system: this year the chicken loop
is equipped with a new injected finger, stiffer, easier to rotate and adjustable in length.
Profile Leading Edge End Tip

The leading edge tips are profiled and have a reduced diameter to avoid any bridles tangling and drag effect.
Profile Batten End Tip

A new batten closing system enables to reduce its diameter in order to decrease the drag. A small batten ensures the closing and holding in position.
Fone Pulley

- Pulley structure is extremely resistant.
- Bridle is integrated in the lower part of the pulley, working in its axle and not sideways.
- Pulleys can be removed independently from the bridle, you can change the bridle and keep the pulley or vice versa.
Vertical Cut Batten

The B5 struts are designed with a vertical cut in order to optimize the strength/diameter ratio.

We try to send out all of our orders the same day that we receive them, up to 1pm. Depending on how busy we are, and levels of stock this is sometimes delayed. In this situation we will contact you via phone or email if the dispatch time is going to be extended by more than 3-4 days.
All small/light weight item orders or normally orders under £50 will be dispatched with Royal Mail on a First Class service.
All Larger items are dispatched with Fed-X or Parcel Force Courier on a 24 hour, trackable service. Please note delivery times to the Highlands and Islands, and deliveries outside of the UK may take longer to arrive at their destination.
Delivery Pricing For Orders to UK:
Order under £30
Royal Mail 1st Class (1-3 Working Days) £2.00
FedEx Next Working Day £4.50

Order over £30
Standard Delivery £3.50 (only for Mainland UK)
FedEx Next Working Day £4.50

Order over £100
Free Standard Delivery (only for Mainland UK)
Free Next Day (If stock options allow)
Saturday Delivery is available at a extra charge and can be selected from Thursday afternoon till Friday morning.
UK Delivery Surcharges
Deliveries to the certain Highlands and Islands postcodes incur a surcharge due to carrier charges to us. This will show in the checkout as a surcharge after you enter your address details.

You can track your Fed-X UK parcels here: http://www.fedex.com/ukservices/
International parcels maybe tracked here:http://www.fedex.com/Tracking?cntry_code=gb
European Shipping Charges:
Please see our shipping page for more detail or select your country in the checkout to get a shipping quote.
Other countries are sometimes possible please contact us with address and order details to arrange a personal quote.

Faulty goods may be returned at anytime during the manufacturers guarantee and ATBSports will arrange for the goods to be rectified or replaced. Unwanted or incorrectly ordered goods can be returned at the customers expense and provided they have not been used or damaged, ATBShop Ltd will issue a full refund less the cost of postage we incur.
If you have a return you want to send back to us please send it back with our RMA Returns Form -
Download RMA Form Here
(PDF Document)

If you are returning Skateboard or Scooter equipment please send it to:
ATBShop Skate Warehouse. Unit 1 Newcombe Drive, Hawksworth Ind Est, Swindon, SN2 1DZ

If you are returning equipment to do with Kite, Snow, Wake or other board sports please send your goods back to
ATBShop, 9 Faringdon Road, Swindon SN1 5AR
No reviews at present
If you have any questions on the product or ordering please call us on
01793 523255
for Kite and Board Sports questions
01793 523244
for Scooter and Skateboard questions.
Or use the form below to send us an email.

F-One
All we do is kiteboarding!
F-One is a 100% kite boarding brand. Being on the water as much as possible is our priority. The brand has been involved in kite surfing from it's very beginning and f-one has always been on the cutting edge of technology and producing some of the best videos in the industry.
more details >>
Shopping Cart
Cart empty
Search
What's New
Special Offers
Keep in touch