Test
Brand new!
Mutiny S-Series 2012 Wave Kite
The S-Series stands for Surf. It also stands for Stoked, which is exactly how youíll feel after every Session.
The S-Series turns fast even when depowered, allowing you to keep it exactly where you want it, no matter where you are in a wave. Its huge amount of depower and light bar pressure allow you to effortlessly control the power, turning it off when running down a large face or engaging it to power around the broken section. With such direct and easy control, you donít need to be a world champion to pick up your board and hit the swell.
Mutiny has used its engineering expertise to create a simple kite with no gizmos - it just works, regardless of your ability. Thereís only one connection point for each of the four lines, one bridle configuration and one inflation point. Simple. Unlike many other Surf kites, the S-Series is super-stable. It wonít fall out of the sky when you run down the line, which is crucial when the waves are glassy and itís gusty offshore conditions.
Like all Mutiny Kites, the S-Series has been built to last. We understand that crashing a kite in the waves really punishes you and your kit. To help prevent this, the S-Series re-launches quickly and easily. Should that not be fast enough, you can rest assured that your kite is reinforced in all the right places, allowing you to shred the next set! The S-Seriesí advanced design is hidden by its simplicity and although itís targeted at the waves it still thrives when there is no swell. Its stability, easy relaunch, fast turn rate and simple jumping ability also make it a perfect kite for progressing riders who want to try their tricks with confidence.
Mutiny Kites S-Series 4m £600
Mutiny Kites S-Series 6m £650
Mutiny Kites S-Series 8m £700
Mutiny Kites S-Series 10m £750
Mutiny Kites S-Series 12m £800
Mutiny Kites Control Bar and Lines £300
Dr Henry Rebbeck, Mutinyís expert aerodynamicist, has designed the S-Seriesí aerofoil to be fast and stable and not too aggressive. Coupled with a variable geometry bridle for smooth depower, this allows easy edge control, so useful when riding strapless, and prevents you being pulled off your board when changing direction.

Unhooking does not result in a rapid downwind tack, but instead allows the freedom to tuck into waves and free up your body position for better looking turns.

The lightweight 3 strut design keeps the kite flying even when youíre charging down the line towards it and the highly tuned bar response gives such great feedback that you can focus on the lip of the wave and not on the kite.

Mutinyís design approach is to integrate everything you need in one clean and simple package. The innovative design features Mutinyís unrivalled gecko grip, a free-running swivel and the simplest quick release on the market. For 2012, the S Ė Series has a front line safety set up that instantly kills the kite if you ever spot any trouble. The quick release is so easy to reassemble that you should use it every time you go kiting. The S Ė Series comes on 22.5m lines with 5m extenders so you can drop down to 17.5m if you want to kite on short lines.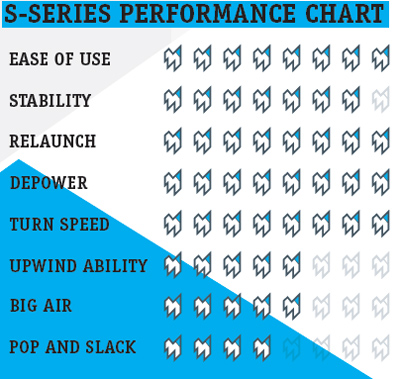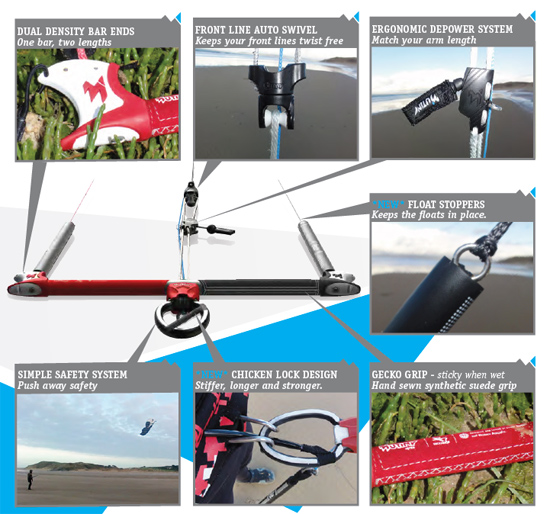 We try to send out all of our orders the same day that we receive them, up to 1pm. Depending on how busy we are, and levels of stock this is sometimes delayed. In this situation we will contact you via phone or email if the dispatch time is going to be extended by more than 3-4 days.
All small/light weight item orders or normally orders under £50 will be dispatched with Royal Mail on a First Class service.
All Larger items are dispatched with Fed-X or Parcel Force Courier on a 24 hour, trackable service. Please note delivery times to the Highlands and Islands, and deliveries outside of the UK may take longer to arrive at their destination.
Delivery Pricing For Orders to UK:
Order under £30
Royal Mail 1st Class (1-3 Working Days) £2.00
FedEx Next Working Day £4.50

Order over £30
Standard Delivery £3.50 (only for Mainland UK)
FedEx Next Working Day £4.50

Order over £100
Free Standard Delivery (only for Mainland UK)
Free Next Day (If stock options allow)
Saturday Delivery is available at a extra charge and can be selected from Thursday afternoon till Friday morning.
UK Delivery Surcharges
Deliveries to the certain Highlands and Islands postcodes incur a surcharge due to carrier charges to us. This will show in the checkout as a surcharge after you enter your address details.

You can track your Fed-X UK parcels here: http://www.fedex.com/ukservices/
International parcels maybe tracked here:http://www.fedex.com/Tracking?cntry_code=gb
European Shipping Charges:
Please see our shipping page for more detail or select your country in the checkout to get a shipping quote.
Other countries are sometimes possible please contact us with address and order details to arrange a personal quote.

Faulty goods may be returned at anytime during the manufacturers guarantee and ATBSports will arrange for the goods to be rectified or replaced. Unwanted or incorrectly ordered goods can be returned at the customers expense and provided they have not been used or damaged, ATBShop Ltd will issue a full refund less the cost of postage we incur.
If you have a return you want to send back to us please send it back with our RMA Returns Form -
Download RMA Form Here
(PDF Document)

If you are returning Skateboard or Scooter equipment please send it to:
ATBShop Skate Warehouse. Unit 1 Newcombe Drive, Hawksworth Ind Est, Swindon, SN2 1DZ

If you are returning equipment to do with Kite, Snow, Wake or other board sports please send your goods back to
ATBShop, 9 Faringdon Road, Swindon SN1 5AR
No reviews at present
If you have any questions on the product or ordering please call us on
01793 523255
for Kite and Board Sports questions
01793 523244
for Scooter and Skateboard questions.
Or use the form below to send us an email.
Mutiny
Mutiny Kites is a design led kite brand founded by a pair of designers with over 15 years of experience in the kiting industry. With a brand philosophy to create the finest products possible using the most ethically and environmentally sound of practices, Mutiny Kites aims to grow a family of kite enthusiasts from all areas of the globe and all walks of life with a customer service and community spirit that has never been seen before. Take control of your own destiny and join the Mutiny family.
more details >>
Shopping Cart
Cart empty
Search
What's New
Special Offers
Keep in touch