Test
Brand new!
Ozone Kiteboarding Catalyst 2012 Kitesurfing Kite "
The Catalyst never fails to impress me. I ride a lot of different kites but every time I jump back on a Catalyst it brings a smile to my face.
It is so versatile and performs very well in all aspects. Its got something for everyone. For sure it's a fantastic kite for entry level riders because it is easy to use and delivers smooth predictable power with progressive handling and simple relaunch.
If you are already a seasoned kiter then this kite can take you where you want to go… boost, ride waves or freestyle. So no matter what your passion might be the Catalyst will deliver.
Kite World Magazine recently tested the Catalyst (Issue 52), this is what they had to say:
"Summary: From the build quality, fixtures, fittings and wonderful bar, to the super clean, balanced canopy to the feeling of having a refined BMW on the end of your lines. Anyone could get on this kite and have a really good time, from all round freestyle, to wave riding right back to just needing some grunt to get up and going to perfect your up wind riding."
In short if you want a kite that delivers in all categories then the Catalyst is as much for you as it is for me."
Rob Whittall – Ozone Kites Designer
Ozone Catalyst 4m Kite Only: £515 Complete: £880
Ozone Catalyst 6m Kite Only: £655 Complete: £1025
Ozone Catalyst 8m Kite Only: £750
Complete: £1125 NOW £950
Ozone Catalyst 10m Kite Only: £780 Complete: £1155
Ozone Catalyst 12m Kite Only: £850 Complete: £1225
Ozone Catalyst 14m Kite Only: £930 Complete: £1310

Our Ozone Complete packages come with; Bag, Inner Bag, Repair Pack, Bar, Lines, Leash, Pump and Kite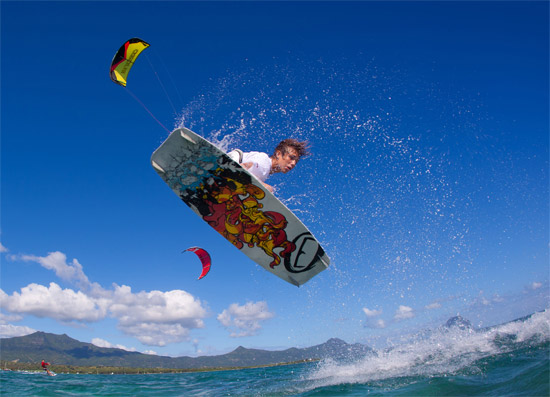 SIZES
4•6•8•10•12•14m
PACKAGE CONTENTS
Kite
45/50/54cm Bars
4 x 25m 500/300kg lines
Large technical bag
Kite Inner Bag
Kite Leash
Pump
Repair Pack
Manual
Stickers, Key-ring
CATALYST DESIGN & PERFORMANCE FEATURES >>
Smooth predictable handling
Mega de-power range
4-line pulley-less system (no pulleys, no problems)
Easy on the bar back line re-launch
Comparable feeling throughout the size range
One-Pump system for quick and easy setup
High volume inflate/deflate valve
Multiple trimming options for customized handling and bar pressure
Color coded and numbered fool proof line connectors
CATALYST CONSTRUCTION FEATURES >>

Exceptional hand checked Ozone factory construction using the highest quality materials
Teijin Techno Force sail material
Dimension Polyant Dacron for the LE & Struts
Internal reinforcements for improved durability
Double stitched bonded seams
Dacron reinforced tip area for load distribution
Reinforced leading edge and struts in high stress areas
Reinforced trailing edge
Light weight & low profile aerodynamic leading edge scuff pads
Unique bladder construction with double layer section in wear areas
Ozone warranty and back-up service guaranteed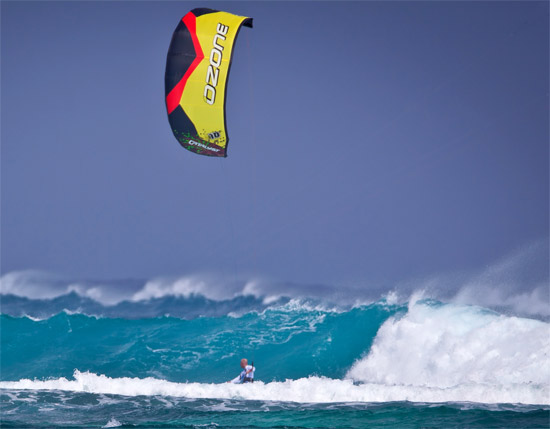 CONTACT WATER CONTROL SYSTEM >


The Contact Water Control System offers a clean control bar design, with simple safety and an easy-to-use trimming system. The Control System exceeds all Kitesurf/Snowkiting loading and release EU NORM safety standards.
Megatron Quick Release – The control system features Ozone's proven Megatron quick release safety with total flag out of the kite. Easy re-assembly saves time and gets you back up and riding faster.


Low Friction Centre Piece – The control bar features a low friction aluminum centre piece designed to reduce trim line wear.
Auto Positioning Chicken Loop – Designed in conjunction with the bar centre piece, the Megatron spinning handle allows chicken loop auto positioning, offering easy unhooked riding and hooking back in.
Magnetic trim handle – The Magnetic trim handle connects to a magnetic neoprene sock covering the clam cleat, to reduce tangles when the trimmer is de-powered.
PU Covered trim line & cast stainless steel de-power ring – The tough PU covered trim significantly reduces wear when sheeting in and out, whilst the smooth running de-power ring also prevents trim line wear.
Longer Foam Floats – The longer foam floats provide improved protection from the lines.
The Contact Water Control System bar sizes come in 45cm, 50cm and 54cm. The larger size PU chicken loop (sold separately) is perfect for riders with longer arms or for riders wanting even easier hooking in & out.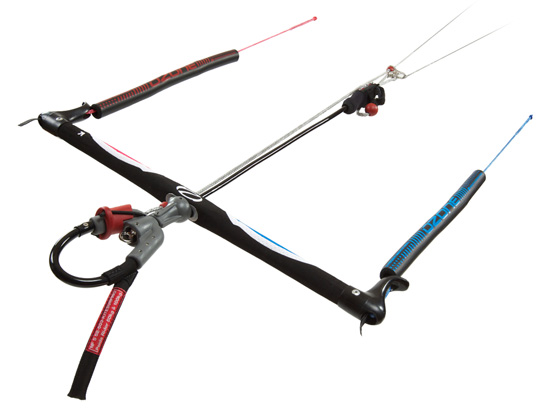 CONTACT WATER CONTROL SYSTEM FEATURES >>
Megatron Quick Release chicken loop
Auto positioning chickenloop for easier unhooked riding
Wide mouth loop for effortless unhooking and hooking back in
Easily untangle your middle lines using the spinning handle
Standard Flag Out or Expert riders leash connection ring
Composite bar with low friction centre piece (45/50/54cm)
Lightly sanded EVA grip and ergonomic finger grip bumps give you the ultimate bar grip
Hideaway elastic line retainers
Clam cleat de-power trimmer with cast Stainless Steel de-power bracket
Magnetic trim handle system reduces tangles when trimmer is de-powered
Wear resistant PU covered trim line
Longer foam floats with internal back line trimming
In line bar stopper ball for flag out safety system
Colour coded leader lines & 500/300kg flying lines
The system exceeds all Kitesurf/Snowkiting loading and release EU NORM safety standards


We try to send out all of our orders the same day that we receive them, up to 1pm. Depending on how busy we are, and levels of stock this is sometimes delayed. In this situation we will contact you via phone or email if the dispatch time is going to be extended by more than 3-4 days.
All small/light weight item orders or normally orders under £50 will be dispatched with Royal Mail on a First Class service.
All Larger items are dispatched with Fed-X or Parcel Force Courier on a 24 hour, trackable service. Please note delivery times to the Highlands and Islands, and deliveries outside of the UK may take longer to arrive at their destination.
Delivery Pricing For Orders to UK:
Order under £30
Royal Mail 1st Class (1-3 Working Days) £2.00
FedEx Next Working Day £4.50

Order over £30
Standard Delivery £3.50 (only for Mainland UK)
FedEx Next Working Day £4.50

Order over £100
Free Standard Delivery (only for Mainland UK)
Free Next Day (If stock options allow)
Saturday Delivery is available at a extra charge and can be selected from Thursday afternoon till Friday morning.
UK Delivery Surcharges
Deliveries to the certain Highlands and Islands postcodes incur a surcharge due to carrier charges to us. This will show in the checkout as a surcharge after you enter your address details.

You can track your Fed-X UK parcels here: http://www.fedex.com/ukservices/
International parcels maybe tracked here:http://www.fedex.com/Tracking?cntry_code=gb
European Shipping Charges:
Please see our shipping page for more detail or select your country in the checkout to get a shipping quote.
Other countries are sometimes possible please contact us with address and order details to arrange a personal quote.

Faulty goods may be returned at anytime during the manufacturers guarantee and ATBSports will arrange for the goods to be rectified or replaced. Unwanted or incorrectly ordered goods can be returned at the customers expense and provided they have not been used or damaged, ATBShop Ltd will issue a full refund less the cost of postage we incur.
If you have a return you want to send back to us please send it back with our RMA Returns Form -
Download RMA Form Here
(PDF Document)

If you are returning Skateboard or Scooter equipment please send it to:
ATBShop Skate Warehouse. Unit 1 Newcombe Drive, Hawksworth Ind Est, Swindon, SN2 1DZ

If you are returning equipment to do with Kite, Snow, Wake or other board sports please send your goods back to
ATBShop, 9 Faringdon Road, Swindon SN1 5AR
No reviews at present
If you have any questions on the product or ordering please call us on
01793 523255
for Kite and Board Sports questions
01793 523244
for Scooter and Skateboard questions.
Or use the form below to send us an email.
Ozone
Ozone is a rider and pilot driven company solely dedicated to creating the best kiting and paragliding equipment on and above the planet. Ozone offer the customer the ultimate in product, service, and support.
Always well known for their build quality and attention to detail as they have their own factory, you can rely on their design and build in all their products. The current Ozone Kitesurfing range includes the Reo, Catalyst, C4, Edge and Zephyr.
more details >>
Shopping Cart
Cart empty
Search
What's New
Special Offers
Keep in touch