Hyperlite

-

Webb Boots with System Chasis 2012
Test
Brand new!
Hyperlite Webb Boots with System Chasis 2012 in Black

Hyperlite System Bindings 2012
The System Binding has revolutionized water sports footwear. This external binding was designed specifically for use with our new System Boots. Our new design philosophy allows us to build unmatched strength, support, and response into the binding itself without sacrificing comfort. Together this System transfers a rider's energy directly to the board creating the most responsive ride in wakeboarding. The new System Binding features full GX3 construction making it lightweight and extremely strong.

The articulating highback allows for greater support and moves with a rider's leg to ensure a full range of rear motion. The adjustable ankle and toe straps are built with maximum retention in mind without creating unwanted pressure points. The System Binding also features an underfoot bridge that connects the side walls of the chassis, creating a torsionally strong construction that won't twist or lift. This feature also allows a rider to stand directly on the deck of the board creating an unmatched rider to board connection. Together this System transfers a rider's energy directly to the board creating the most responsive ride in wakeboarding.

System Binding Features:
All New Adjustable Toe Strap System All New Fast Back Locking Highback Option
Baseless Boot Interface
Ultra Light G5 Chassis Construction
Articulating Highback
Mid Flex, Adjustable Ankle Strap
Strata Specific Mounting Locations
Traditional 6" Mounting Locations

Hyperlite Webb Boots
JD Webb's first pro model boot was designed to perfectly complement his freeride style. The Webb Boot interfaces with the System Binding allowing for a lightweight feel and maximum comfort. JD's new boot is built like nothing the wake industry has ever seen because of its true footwear construction. Beginning with a lightweight EVA outsole and TPR impact pods the JD Boot creates great cushioning under foot. Custom insoles with integrated arch support cradle the foot from maximum stability. Our exclusive Ultralon heat moldable liner material creates a custom fit and comfort throughout the boot. The Webb Boot also features a lower cut cuff and softer flexion to provide the broadest range of motion in the System line up.
Webb Boot Features:
Revolutionary 2-Part Construction
EVA-Lite Outsole
TPR Impact Gel Inserts
Custom Ultron Insoles
Heat Moldable Hyper-Liner EVA
Flow Through Drain Panels and Outsole
Dual Quick Cinch Lace Zones
Lace Management Stash Pockets
Lower Cuff Offering the Most Range of Motion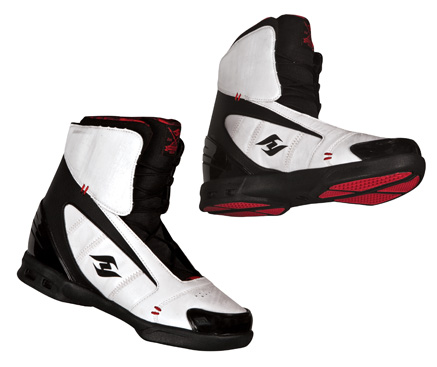 We try to send out all of our orders the same day that we receive them, up to 1pm. Depending on how busy we are, and levels of stock this is sometimes delayed. In this situation we will contact you via phone or email if the dispatch time is going to be extended by more than 3-4 days.
All small/light weight item orders or normally orders under £50 will be dispatched with Royal Mail on a First Class service.
All Larger items are dispatched with Fed-X or Parcel Force Courier on a 24 hour, trackable service. Please note delivery times to the Highlands and Islands, and deliveries outside of the UK may take longer to arrive at their destination.
Delivery Pricing For Orders to UK:
Order under £30
Royal Mail 1st Class (1-3 Working Days) £2.00
FedEx Next Working Day £4.50

Order over £30
Standard Delivery £3.50 (only for Mainland UK)
FedEx Next Working Day £4.50

Order over £100
Free Standard Delivery (only for Mainland UK)
Free Next Day (If stock options allow)
Saturday Delivery is available at a extra charge and can be selected from Thursday afternoon till Friday morning.
UK Delivery Surcharges
Deliveries to the certain Highlands and Islands postcodes incur a surcharge due to carrier charges to us. This will show in the checkout as a surcharge after you enter your address details.

You can track your Fed-X UK parcels here: http://www.fedex.com/ukservices/
International parcels maybe tracked here:http://www.fedex.com/Tracking?cntry_code=gb
European Shipping Charges:
Please see our shipping page for more detail or select your country in the checkout to get a shipping quote.
Other countries are sometimes possible please contact us with address and order details to arrange a personal quote.

Faulty goods may be returned at anytime during the manufacturers guarantee and ATBSports will arrange for the goods to be rectified or replaced. Unwanted or incorrectly ordered goods can be returned at the customers expense and provided they have not been used or damaged, ATBShop Ltd will issue a full refund less the cost of postage we incur.
If you have a return you want to send back to us please send it back with our RMA Returns Form -
Download RMA Form Here
(PDF Document)

If you are returning Skateboard or Scooter equipment please send it to:
ATBShop Skate Warehouse. Unit 1 Newcombe Drive, Hawksworth Ind Est, Swindon, SN2 1DZ

If you are returning equipment to do with Kite, Snow, Wake or other board sports please send your goods back to
ATBShop, 9 Faringdon Road, Swindon SN1 5AR
No reviews at present
If you have any questions on the product or ordering please call us on
01793 523255
for Kite and Board Sports questions
01793 523244
for Scooter and Skateboard questions.
Or use the form below to send us an email.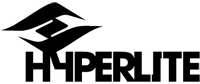 Hyperlite
Hyperlite is a wakeboarding company that has been around since the sport was first invented. Hyperlite is frequently cited as the 'best' wakeboard manufacturer. Hyperlite sponsors many professional wakeboarders and wakeskaters, such as Shaun Murray, Rusty Malinoski, Denise de Haan, Heather Johnson, Jd Webb, Jimmy Lariche, Jacob Valdez, Nick Davies, Jenacee Jackson, Maeghan Mckenzie, Mike Schwene, Brian Grubb, Brandon Thomas, and Chris Kallas.
more details >>
Shopping Cart
Cart empty
Search
What's New
Special Offers
Keep in touch