Slingshot
Crisis Kiteboard 2011
Please select an option
In Stock & available for UK next day delivery
Out of stock. Sorry, This item is now Discontinued.
Slingshot Crisis Kiteboard 2011
The
Slingshot CRISIS
is for the freerider looking for a great performance twin tip that is easy to ride, shoots upwind and is durable. Paired with the KEY kite makes it the ideal freeride package. A great beginner kitesurf board at a great price!
Progression and evolution are key elements to building confidence and ultimate success in learning how to kiteboard. Having the right tool at the right price is equally important.
Slingshot introduces the new CRISIS series twin tip board to complete the formula. Benefits of the user friendly outline, quality overall design, affordable price when combined with the KEY kite, and our commitment to superior customer service make the CRISIS twin tip board the perfect answer freeriders.
Slingshot Crisis Comes in 134cm / 137cm and 141cm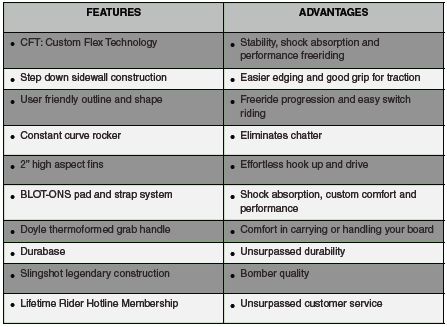 Board Package Inclues:
• Crisis deck
• Qty 4 x 2" symmetrical fins
• Thermo formed grab handle
• BOLT-ONS integrated foot pad and micro adjust strap system
• Lifetime Rider Service Membership