Micro Scooter Handle Bars District -
Replacement Handle Bars and fixed bars for Freestyle and Trick use.
There is a big selection of T Bars, Y Bars, Pro Curve BMX Style bars. These bars range from super light aluminium to pro steel and Chromoly. When fitting new bars to your scooter we recommend a triple of quad clamp. Aluminium bars are generally oversized whilst steel are standard size. Make sure you have the right size clamp for your new bars!
District make a variety of extremely high end scooter parts from compression kits to V2/V3 forks, AL/ST bars, V2/DK2 decks and complete scooters. District have some of the best riders in the world testing and developing their products.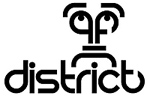 These Ltd Edition Helmeri scooter bars from District are 550mm high an and 550mm wide. Lightweight and oversized for use with an oversized clamp or SCS.
£54.95