Hyperlite
Webb Boots with System Chasis 2012
Please select an option
In Stock & available for UK next day delivery
Out of stock. Sorry, This item is now Discontinued.
Hyperlite Webb Boots with System Chasis 2012 in Black

Hyperlite System Bindings 2012
The System Binding has revolutionized water sports footwear. This external binding was designed specifically for use with our new System Boots. Our new design philosophy allows us to build unmatched strength, support, and response into the binding itself without sacrificing comfort. Together this System transfers a rider's energy directly to the board creating the most responsive ride in wakeboarding. The new System Binding features full GX3 construction making it lightweight and extremely strong.

The articulating highback allows for greater support and moves with a rider's leg to ensure a full range of rear motion. The adjustable ankle and toe straps are built with maximum retention in mind without creating unwanted pressure points. The System Binding also features an underfoot bridge that connects the side walls of the chassis, creating a torsionally strong construction that won't twist or lift. This feature also allows a rider to stand directly on the deck of the board creating an unmatched rider to board connection. Together this System transfers a rider's energy directly to the board creating the most responsive ride in wakeboarding.

System Binding Features:
All New Adjustable Toe Strap System All New Fast Back Locking Highback Option
Baseless Boot Interface
Ultra Light G5 Chassis Construction
Articulating Highback
Mid Flex, Adjustable Ankle Strap
Strata Specific Mounting Locations
Traditional 6" Mounting Locations

Hyperlite Webb Boots
JD Webb's first pro model boot was designed to perfectly complement his freeride style. The Webb Boot interfaces with the System Binding allowing for a lightweight feel and maximum comfort. JD's new boot is built like nothing the wake industry has ever seen because of its true footwear construction. Beginning with a lightweight EVA outsole and TPR impact pods the JD Boot creates great cushioning under foot. Custom insoles with integrated arch support cradle the foot from maximum stability. Our exclusive Ultralon heat moldable liner material creates a custom fit and comfort throughout the boot. The Webb Boot also features a lower cut cuff and softer flexion to provide the broadest range of motion in the System line up.
Webb Boot Features:
Revolutionary 2-Part Construction
EVA-Lite Outsole
TPR Impact Gel Inserts
Custom Ultron Insoles
Heat Moldable Hyper-Liner EVA
Flow Through Drain Panels and Outsole
Dual Quick Cinch Lace Zones
Lace Management Stash Pockets
Lower Cuff Offering the Most Range of Motion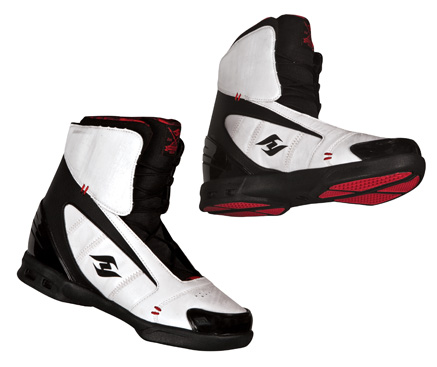 If you have any questions on the product or ordering please call us on
01793 523255
for Kite and Board Sports questions
01793 523244
for Scooter and Skateboard questions.
Or use the form below to send us an email.