Please select an option
In Stock & available for UK next day delivery
Out of stock. Sorry, This item is now Discontinued.
Ozone Access 2012 Freeride Snow and Land Depower Kite
The Access is the ultimate entry level to intermediate snow kite. It has been designed for riders looking for an incredibly versatile and easy kite to ride for freeriding and backcountry exploring.
The new Access features an added safety option with the Acess Control System, allowing for easy 100% fl ag-out safety whilst retaining the brake handle landing option. Also added this year is a 12 m for light wind and heavier riders.
What's important for an entry level kite is excellent stability, easy to control constant power and safety. Thanks to the Access's design riders are able to concentrate on their riding technique with confidence.
From your first lessons on the snow to learning how to jump, backcountry riding and unhooked freestyling, the Access does it all! Our design team and Pro riders always have a 4m or 6m with them when going backcountry as their "get out of jail card free" high wind kite.
The Access is constructed from top quality materials and features a double pulley speed-system, utilising the latest high spec Ronstan Orbit Block Series 20 pulleys. Four unique blow-out-valves on the under surface allow the internal volume of air to be released when the kite is crashed into the ground.
Ozone Access 2012 4m Kite Only £459 SOLD OUT
Ozone Access 2012 6m Kite Only £515 SOLD OUT
Ozone Access 2012 8m Kite Only £589 SOLD OUT
Ozone Access 2012 10m Kite Only £620 SOLD OUT
Ozone Access 2012 12m Kite Only £644 SOLD OUT
Ozone Access 2012 4m Complete £684 SOLD OUT
Ozone Access 2012 6m Complete £744 NOW £630
Ozone Access 2012 8m Complete £820 NOW £695
Ozone Access 2012 10m Complete £850 SOLD OUT
Ozone Access 2012 12m Complete £875 SOLD OUT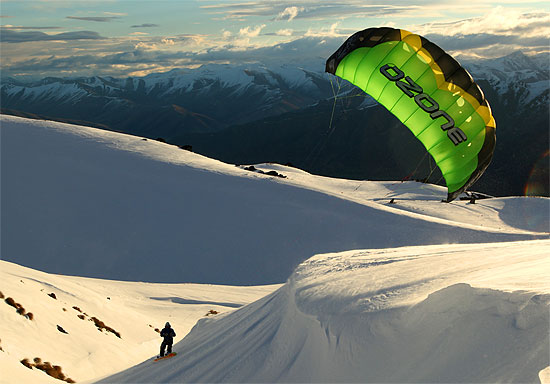 Ozone Access 2012 Features:
• 100% Flag Out Safety System
• Double Pulley Speed System with new Ronstan Orbit Pulleys
• Easy predictable handling
• Rock-solid stability
• Constant power
• Huge De-Power range
• Simple re-launch
• Enhanced stall characteristics
• Closed cell leading edge with mesh for clean air intake and extra strength
• Dirt-Outs in tips
• Diagonal Ribs
• Blow out valves
• 54cm Access Control System with the Original Ozone Y-Line design & new
Flag-Out
• Exceptional hand checked Ozone factory construction using the highest quality materials; Highest grade OzTex 40D and Edelrid Sheathed bridal lines
• Ozone warranty and back-up service guaranteed
In The Bag
• Bar with 25m Lines
• Kite Leash
• Large Technical Backpack
• Repair Pack
• Comprehensive manual
• Stickers, Keyring
If you have any questions on the product or ordering please call us on
01793 523255
for Kite and Board Sports questions
01793 523244
for Scooter and Skateboard questions.
Or use the form below to send us an email.