In Stock & available for UK next day delivery
We had the chance to try out the GoPro Hero 6 Black recently and try to understand what is new. Well from the outside it looks virtually identical to the Hero 5 Black but it's what's inside that counts! The first time in many years of GoPro's there is a new chip in the camera and it's been designed by GoPro called the GP1 it has enabled the camera to double it's performance from the Hero 5 Black. This means it can now record 4K at 60 Frames per second and 1080p at 240 frames per second. Now that is seriously impressive for a camera of this size. Now most people without computers the size of a small town might not film at these rates but it is possible. There are still the standard HD and other resolutions but the improved performance has allowed more improvements under the hood with a totally revised image quality and super smooth image stabilisation. Also included for the first time on a GoPro is video zoom! This is digital zoom so won't turn a GoPro into a big zoom lens but can help you to frame your shot better and easier than before. The GPS has also had an upgrade and can now display real stats about speed, altitude etc on top of your videos.

So the Hero6 Black Specs in a nutshell are 4K @ 60fps, 1080p HD @ 240fps, 12MP Burst photos at 30fps. automatic video editing, advanced image stabilisation, best picture and colours ever, video zoom, GPS stats, Water Proof to 10m and much much more.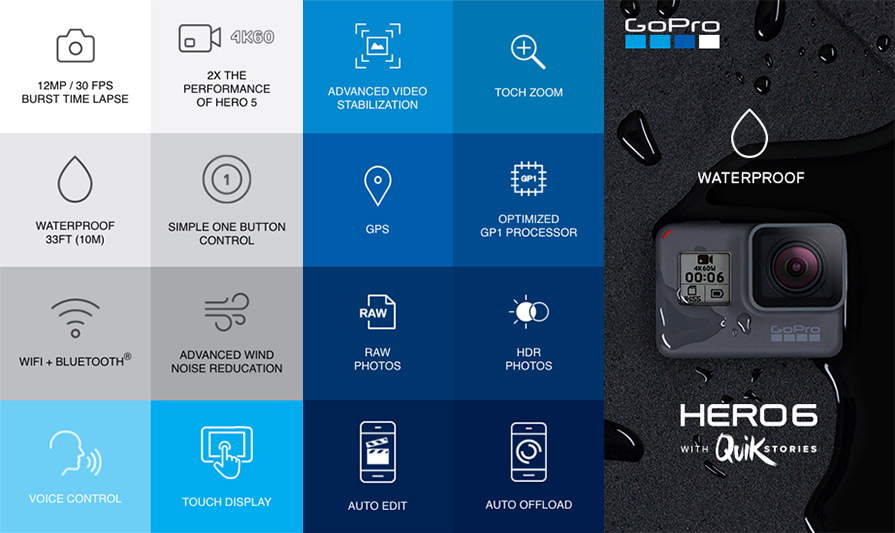 The other important software thing that quietly launched before the camera is Quik Stories being integrated into the GoPro mobile app. This feature when you enable it automatically copies your videos onto your mobile device in the background and automatically creates a video edit for you based on what it has detected in action in the videos you have taken. You can then adjust the video to your tastes and upload automatically. The Hero 6 Black helps that process with a much faster wireless connection from the camera to mobile and it can happen while you are walking or riding around and the mobile is in pocket or bag. This can take one majorly painful link out of creating a video.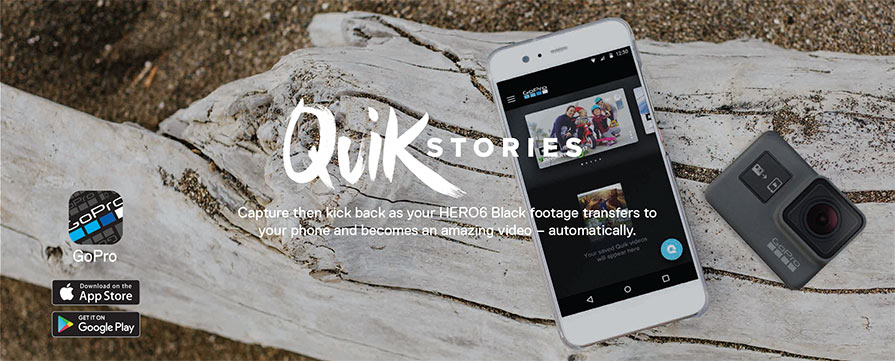 Along with new specs all the standard features we have come to expect with a GoPro are still there. Waterproof to 10m, simple one button controls, voice control, gps, field of view adjustments, protune manual settings to the photo and video if you want to get right down into it. Plus a massive range of mounts and accessories in the GoPro range make this the most versatile GoPro ever made.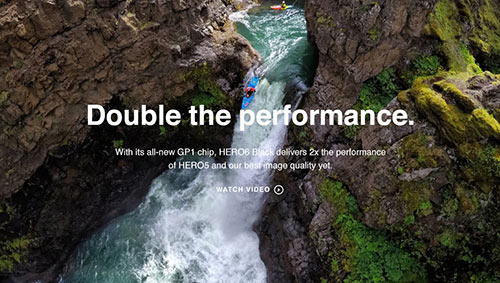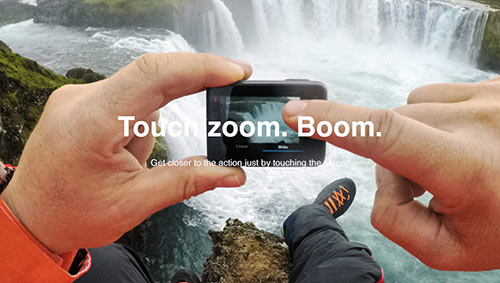 GoPro Hero 6 Black Features and Specifications:
QuikStories Enabled
HERO6 Black sends your footage to your phone where the app transforms it into a stunning edited video – automatically. You can then tweak and publish straight from the phone.
2x the Performance
With 4K60 and 1080p240 video, HERO6 Black delivers 2x the performance compared to HERO5 Black.
Best-Ever Image Quality
With an all-new GP1 chip optimised for GoPro capture, HERO6 Black delivers vastly improved image quality and smooth, stabilised footage.
Next-Level Stabilisation
With GoPro's most advanced video stabilisation yet, HERO6 Black captures incredibly smooth footage, whether it's handheld or mounted to your gear.
3x Faster Offload Speeds
Featuring 5 GHz Wi-Fi, you can copy photos and videos over to your phone faster than with HERO5 Black.
Rugged + Waterproof
Durable by design, HERO6 Black is waterproof to 10m without a housing.
Improved Low-Light Video + Photos
Capture crisp, clear video and photos, even in low-light conditions.
GPS
HERO6 Black captures your GPS path, speed, elevation gain and more. Add your stats to your videos in the Quik desktop app.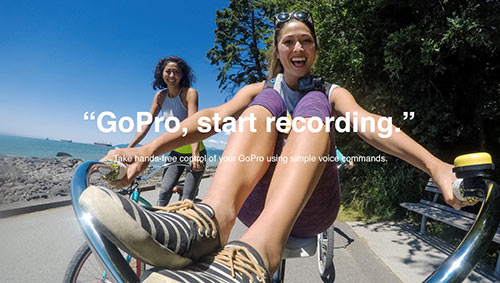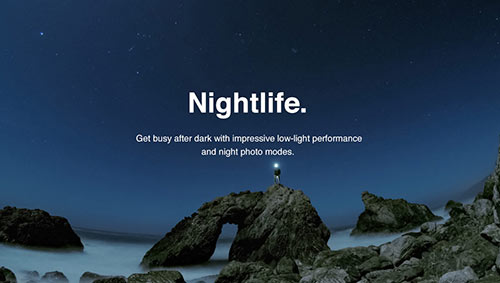 VIDEO & PHOTO SPECS:
VIDEO 4K 60fps 1080p 240fps
TIME LAPSE VIDEO - 0.5, 1, 2, 5, 10, 30, 60 second intervals
LOOPING VIDEO - Max, 5, 20, 60, 120 minute intervals
PHOTO - 12 MP
BURST - 12 MP @ 30 fps
TIME LAPSE PHOTO 0.5, 1, 2, 5, 10, 30, 60 second intervals
NIGHT PHOTO Auto, 2, 5, 10, 15, 20, 30 second exposure times
NIGHT LAPSE PHOTO Auto (default), 4, 5, 10, 15, 20, 30 second intervals; 1, 2, 5, 30, 60 minute intervals