In Stock & available for UK next day delivery
Slingshot Kites Misfit Kitesurfing board
The New
Misfit
offers a new outline, deck profile and Twin Channels, for more edging capability, consistent load with flex control, excellent upwind drive, and insane pop. With a weight reduction of .5 lbs (110g), the Misfit is designed by Tony Logosz.
The Misfit rides smoothly through chop without spray in your face, and offers the most versatility in all conditions. Exclusive innovations include our Radio Active POP Core, SingleShot Fusion Sidewall, Resin X, Fastrack and Custom Culture Graphics. The Misfit is proudly handcrafted in our USA Factory.
Slingshot Misfit Board Sizes: 132cm, 136cm, 142cm, 146cm

Features:
Columbia Gold Wood Core - Power, Stability, smooth flex and pop
Fusion Tech Rail - Unrivaled Durability
Custom Culture Graphics - Cutting Edge artistic movement, lighter weight
Resin X - Lighter overall weight and exceptional flex, rebound and pop
Fastrack - Endless stance options, superior rider to board connection
V Channels - control through chop and clean release off the water
New Outline - Better control, more power
Shorter Effective Edge - Quick, Powerful hook up, no spray
New Bolt on 3s Pad and Strap Binding with Grab Handle - The only fully integrated binding system in the market
Slingshot Legendary Construction - To ensure long lasting durability and performance
Worlds Greenest Board - Better for the enviroment
Designed bt Tony Logosz - 30 years of legendary shaping experiance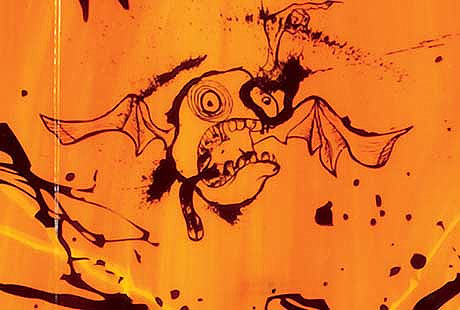 2012 Slingshot Misfit Package:

132- Width: 40cm Tip Tail Width: 32.5cm Stance: 21"-26"
136- Width: 40.5cm Tip Tail Width: 33.5cm Stance: 21"-26"
142- Width: 42cm Tip Tail Width: 34.5cm Stance: 21"-26"
146- Width: 43.5cm Tip Tail Width: 35cm Stance: 21"-26"
Misfit Deck
4, 2" (5cm) G-10 symmetrical fins
Bolt-ons integrated foot pad and micro adjust strap system
Fastrack mounting system
Lifetime Rider Service Hotline Support
Rider Profile:

Expert to intermediate
Works on advancing new tricks
Desires solid edging, massive pop and power
Looking for controlled flex, delivering top level performance in all conditions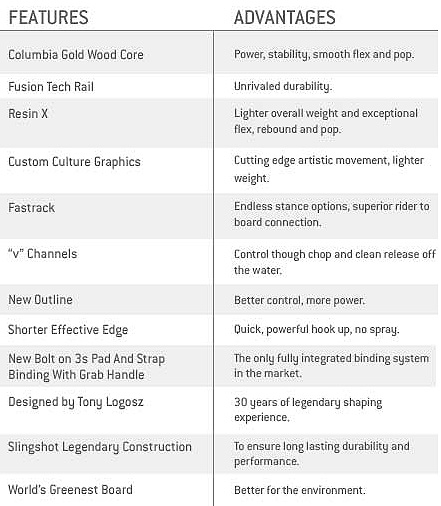 Related Products