Out of stock. Sorry, This item is now Discontinued.
Related Products
The Liquid Force Mission Control bar is new for 2017 and has been under development for some time! Taking a simple bar and making it even simpler is a hell of a task but Liquid Force have done it. You spend a lot of time holding on to the bar and it makes the difference between an awesome day and a frustrating day.
The new moulded bar design reduces weight and unnecessary parts but increases strength. The bar grip is super nice and smooth. The chicken loop is super simple and automatically re-engages back together when pushed. The depower rope and safety are all inside one outer pu tube to keep it clean through the bar throw. The depower cleat is simple and clean and in easy reach. The bar can be adjusted from 49cm to 55cm so great for the smaller and bigger size kites. Single front line flagout is simple and clean without extra lines and works great and easy to reload. Coming with 20m flying line and 3m extensions there is versatility in mind.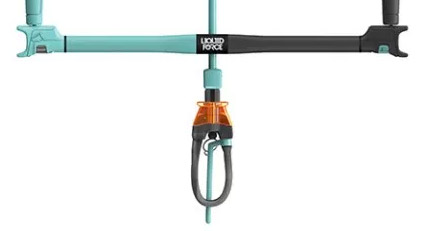 The Liquid Force Mission Control bar is a zero calibration bar and lines so when the bar is up against the chicken loop all lines are equal at the kite end. This allows it to be used on many other kites. The line ends also have thicker leaders that connect to the kite and can be switched round to be compatible with all types of kite connection.
Liquid Force Mission Control Bar Specs:
Width Adjustable from 49-55cm
Front line 100% depower safety line
Push Away Chicken Loop with self re-engaging catch
Front line swivel above chicken loop
20m Flying Lines
3m Flying Line Extensions
Short Safety Leash
5th Line compatible with extra kit.