The Ozone Contact Water Control System offers the latest in safety features, an ergonomic control bar designed for simple and easy-to-use trimming system whilst offering ultimate control and response delivery from kite to bar. The all new features of this bar are the bar ends and floats to which have been tidied up to reduce clutter. This bar also exceeds all Kitesurf/Snowkiting loading and release EU NORM safety standards.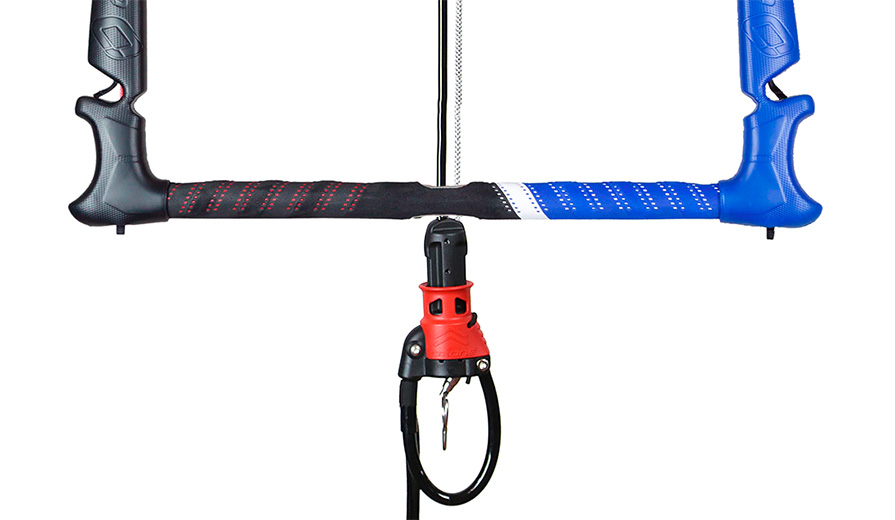 Ozone Contact Bar Features:
Push Away Quick Release – The control system features a new Megatron pushaway quick release safety with total flag out of the kite. The release handle is ergonomic with positive release forces (under 8kg) allowing for quick and easy release. Simple re-assembly saves time and gets you back up and riding faster.
Two Safety Modes – The Megatron offers riders a choice of two safety modes, the recommended standard safety or the optional Suicide safety.
• The standard Flag out safety offers 100% flag out in all situations by releasing the Megatron or letting go of the bar when un-hooked
• The Suicide option offers 100% flag out only when the Megatron is released whilst hooked in, allowing riders practicing handle passes to let go of the bar with out flagging the kites safety (not recommended)

Anti-twist 100% Flag Out Line – The flag out line running through the Megatron & safety leash attachment at the bottom keeps the leash tangle free when doing rotations and manually unwinding the centre lines using the Spinning Handle.

Low Friction Centre Piece – The control bar features a low friction aluminum centre piece designed to reduce trim line wear.

Auto Positioning Chicken Loop – Designed in conjunction with the bar centre piece, the Megatron spinning handle allows chicken loop auto positioning, offering easy unhooked riding and hooking back in.
Magnetic trim handle system – The Magnetic trim handle connects to a magnetic neoprene sock covering the clam cleat to reduce tangles when the trimmer is depowered.
PU Covered trim line & cast stainless steel de-power ring – The tough PU covered trim significantly reduces wear when sheeting in and out, whilst the smooth running de-power ring also prevents trim line wear.
The Contact-Water Control System bar comes in 45cm and 50cm which comes with 25m lines and 55cm which comes with 27m lines.
The larger size PU chicken loop (sold separately) is perfect for riders with longer arms or for riders wanting even easier hooking in & out.