In Stock & available for UK next day delivery
- Kite of choice for big wave rider Jesse Richman and 3x World Wave Kitesurf Champion Jalou Langeree!

Control on demand and drift at an instant with North Kiteboarding's latest wave riding machine. Tuned and tweaked to produce the perfect pivoting circle, the furthest drift and instant power switch on and off offering you the ultimate wave riding experience. Maintain your focus and take in the moment while tucking up into a barrel knowing the Carve is sat exactly where it needs to be. The Carves exceptional depowerable range allows you to really work your turns on the steeps while the zero delay on powering on helps you escape the danger zone with quick haste.

Maintaining shape and stability is what really makes a wave kite, the North Carve we believe goes beyond that with their new reinforced dacron exo-skeleton that highlights the perimeter of the kite and is made with stretch resistant Techno Force Dacron. This protects and retains the shape of the lighter fabric used on the inner canopy and assists in maintaining the kites shape in gusty and unforgiving conditions. To add to this level of stability North have added in an extra profile transitioning panel that connects the leading edge to the canopy to ensure a precise lateral, aerodynamic profiling for more efficient airflow and turbulent feedback through the bar.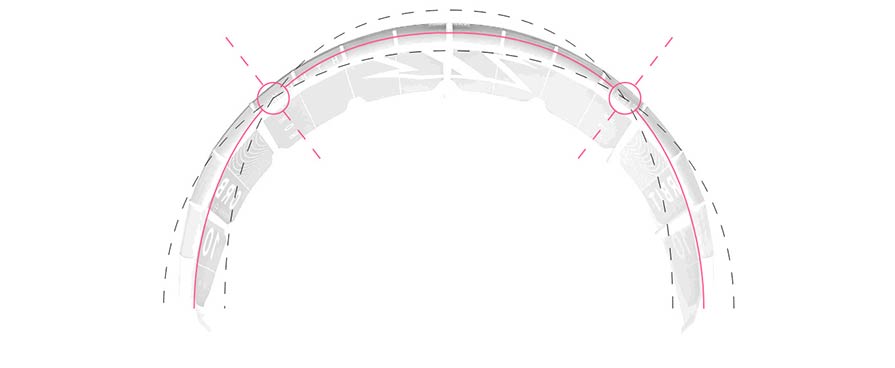 Using a 2-stage arc design with a smooth curve central region leading edge and straighter wingtips, the Carve offers a dynamic steering response with some lofty jumps and enough hang time to check your messages on the way down. This design helps with the kites projected aspect ratio and prevents the Carve from flying too high as well as offering tighter turns without any excessive power. A larger diameter leading edge makes for a more rigid kite frame with less inflation, this also allows you to fly a size smaller! To finish it all off we have a low drag bridling system with a greater aerodynamic performance with reduced shrinkage, elongation and improved longevity.
For the person looking to step up their surf game and look to getting the most from each and every wave then without fail the North Carve is the weapon of choice. To know exactly where the kite is at all times is a beautiful thing, to have unmatching control over drift and turn is the future of strapless wave kiting.
The North Kiteboarding Carve Wave/ Strapless Freestyle Kitesurfing Kite specifications:
Instantaneous power on and off
Drift on demand
Direct pivot steering
Evolved slack line drift
Medium aspect leading edge swept design
Surf tough construction
Large leading edge diameter
2-Stage arc design
Profile transitioning panels
DuraLite seam protection
Steering impulse option
Low drag bridle
Hyperflow inflation system
No-pulley bridles
Kevlar reinforced strut system
Reinforced dacron exo-skeleton structure
Teijin Techno Force D2 ripstop fabric