In Stock & available for UK next day delivery
"Megaloops on a 12? I'd never done that before. I have so much trust in this kite, in every condition."

-Nick Jacobson
The weapon of choice for a member of the world kiteboarding elite, Nick Jacobson the North Orbit specialises in taking your kitesurfing to a whole new level featuring regular trips to the moon and plenty of hang time on the way back down! A completely refined, tried and tested design of kite that has changed the way we look at the kiteboarding industry. Looping a kite has never been so fun and predictable in the unpredictable nature of the sport that we love. Consistent and smooth feedback with a light bar pressure feel offers exceptional response in this super stable five strut platform. With outstanding upwind performance the Orbit is the perfect companion for your trip to outer space.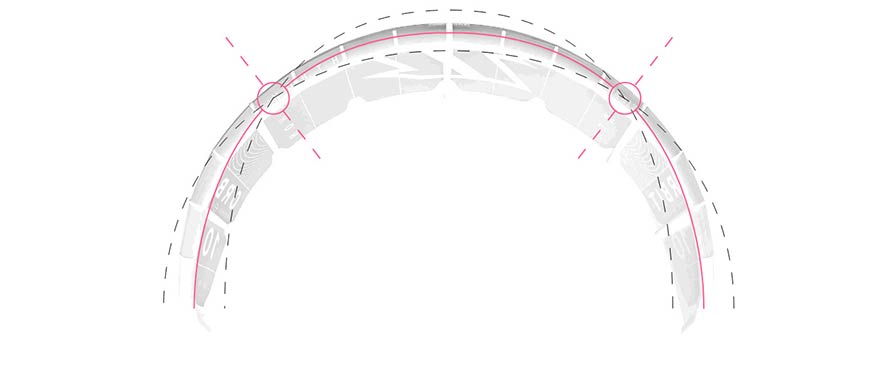 Now with the level of tech that goes in to this kite, where do we start? Well first up the Orbit uses a 2-stage arc design which produces a smooth and efficient curved central region to optimise power from the kite. This allows for straighter wingtips resulting in more dynamic and responsive steering capabilities. The team at North KB have developed an Aero- optimised canopy technology which involves adding an extra panel connecting the leading edge to the canopy for a more precise lateral profiling resulting in a more sufficient airflow and turbulence control. For exceptional strength, durability and elongational control in this ground breaking kite, the North Orbit features a reinforced dacron exo-skeleton for maintaining its profiling throughout any conditions and producing increased performance and lift.

Low drag and pulley-less bridling made from the highest quality materials allows for better aerodynamic performance, better safety and a direct connection between rider and kite. North have given the Orbit kevlar reinforced struts for a solid and highly durable connection between leading edge and strut. We have North KB's Hyperflow inflation system for a direct connection from the pump allowing rapid kite inflation without any unnecessary adaptors. To finish this masterpiece off we have a premium high density Teijin Techno Force D2 ripstop canopy made from a tenacity yarn for lightness with a high tearing strength and endurance.
The North Orbit Kitesurfing kite is quite literally for any kitesurfer, as far as we are concerned here at ATBShop the Orbit really does excel across the board with un-matching stability and performance. The kite produces enough controllable power to keep the beginners progressing at their own pace and the more experienced athletes flying through the sky with insane amounts of adrenaline flowing through their veins. North have developed a kite with powerful looping capabilities and outstanding response while also having a stable offering for those just starting out in kitesurfing. Although this kite is labled free ride/ big air we found it is also a great choice for freestyle/ unhooking offering a great amount of slack and pop from the water while the turning speed of the kite is a nice option for any wave rider.
The North Kiteboarding Orbit Kitesurfing Kite specifications:
Freeride/ Big Air/ Freestyle
Powerful 5-strut platform
Outstanding upwind performance
Easy relaunch
High aspect sweep design
Controlled response
2- Stage arc design
Reinforced dacron exo-skeleton structure
Kevlar reinforced strut system
Profile transition panels
Duralight seam protection
Steering impulse option
Low drag bridling
No-pulley bridles
Hyperflow inflation system
Teijin techno force D2 Ripstop fabric