In Stock & Available for delivery
Related Products
The Ozone Alpha V1 is a new model in the Ozone range which sits nicely between the Catalyst and Enduro but is so much more than a filler it's a killer kite in it's own right. A change in design after years making the Uno single strut trainer now Ozone have created a single strut tube kite for the main range and it's sized all the way from 4m up to 16m. It is easy to pop the Alpha into a "travel kite" or "hydrofoil" category due to it's light weight but also for many freeriders this really is a great kite for everything! We have been flying the kite quite a lot since it came onto our demo fleet and must say we really are impressed with it's just connect and ride ability. We thought it would be a bit "flappy" with just a single strut but no more so than the three strut kites.
The extra lightweight design of the Alpha is apparent when riding in light winds, it just want's to perform and stay in the sky in the lulls. It also romps upwind at tight angle thanks to it's efficient high lift aerofoil profile and jumps super nice with no surprises and nice smooth float. The larger sized Alphas also are great low wind options with them taking the lightwind tube kite crown away from the legendary Zephyr but the Zeph has a bit wider and higher wind range as the wind picks up! So from our review above then who wouldn't want a Alpha V1 in their quiver? Check our the videos below to see it in action!
The Ozone Alpha V1 is a kite for progressing riders out of lessons right up to intermediate to advanced freestyle freeriders and foil riders with a bit of wave riding too! It is super versatile swiss army knife.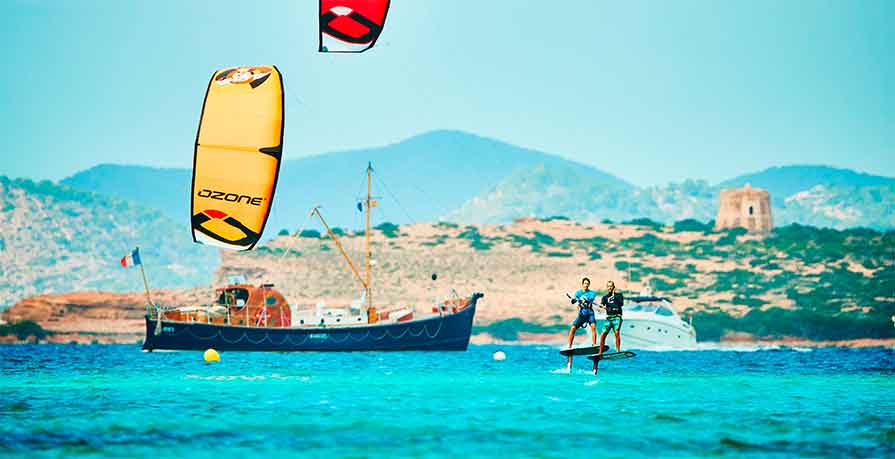 So why would you buy the Catalyst or the Enduro etc instead of the Alpha? If you are just out of lessons and want as much support as possible then the Catalyst is still better with quicker relaunch and more constant torque for progressing beginners into their first jumps. The Enduro has loads of adjustment settings for more tweakeable ride and also has more explosive freestyle pop than the Alpha. But inexperienced riders sometimes find the Enduro more of a handful as you have to fly it right to get the float from jumps and catch you right. If you romped through your lessons and want to be jumping and progressing as fast as possible then the Alpha may be a good choice instead of the Catalyst or Enduro. Just connect and ride!
The Alpha Package: The Ozone Alpha V1 comes kite only with a compressor stuff sack similar to foil packing bags. We were unsure if we liked this initially but after using it more we love it. The kites pack into it super easy even if in a wet sandy mess and you can often pop the bag into another bag to take two kites to the beach or use a thin bag like the Mystic Kite bag and pop two alphas and a bar pump in there!
Ozone Contact Bar V4: The Alpha will fly on any Ozone bar but we love the new V4 bar with the click in chicken loop so it's what we recommend above but we can do the earlier Contact bar which Ozone still make if you want to save a bit on the package?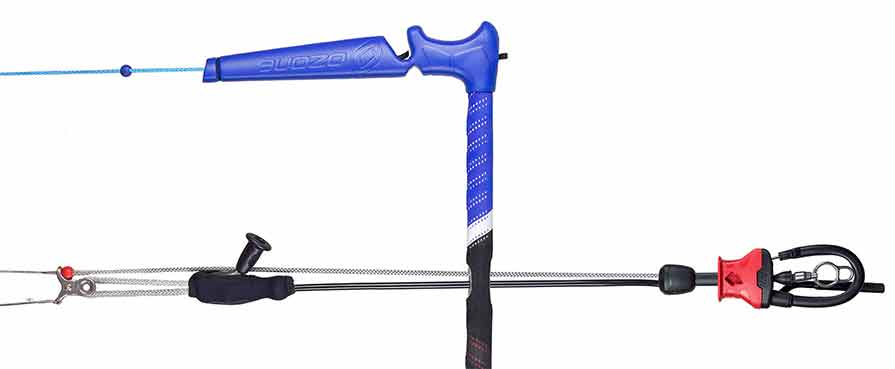 Ozone Alpha V1 Construction Features:
Designed With OZ-CAD
Exceptional Ozone Factory Construction
Teijin TechnoForce D2 & Teijin Dacron
4-line Pulley-less System
One-Pump Inflation System
High volume inflate/deflate valve
Tuned Bridle Geometry
Fool proof line connectors
Anti-Snag line deflectors
Direct Connect Struts
Unique bladder construction
Double Stitched Folded Seams
Internal reinforcements
Load Distribution Panels
Low profile aerodynamic Scuff Pads
Reinforced Leading Edge and Struts
Reinforced Trailing Edge