Out of stock. Sorry, This item is now Discontinued.
Related Products
Ozone Catalyst 2015 Kitesurfing Kite
has been our most popular all round kite last season and keeps improving season on season with so many riders finding it's all round versatility just superb for a bit of everything from beginners to experienced riders. So what have Ozone managed to do to the ever popular Catalyst Kitesurf Kite? For 2015 the Catalyst has been refined with now using Teijin D2 canopy material and Teijin Dacron for stronger kite with longer lasting crispiness. Also refinement and adjustments to the leading edge sweep, sail tension and loads of little details across the kite to just further refine the overall kite that was already great! Other new details this year is a new technical bag which is a bit more durable and solid than the older ones and still using the great push away bar system that came to Ozone's kites last season.

The beauty of the Ozone Catalyst is the confidence it inspires in all aspects so it allows you to push yourself and your limits easily and safely. It is ATBShop's and Ozone's best selling model as it performs great for all levels of riders and all areas of kitesurfing and also landboarding. It best feedback we have had from riders testing and after flying the kite is "it just works, without me thinking about it" and we think that's a great summary of the catalyst. Unless you are specialising in unhooked handlepass freestyle or pure wave riding then this is probably the best kite in Ozone's range for you. Riders of the older higher depower C4's and many other brands have moved over to the catalyst for it's high level of performance and ease of use in all disciplines.
Ozone Catalyst 2015 Pricing:
We do still have some Ozone Catalyst 2014 Versions left while stock last at great sale prices!
4m and 6m are special order kites as mostly used by kite schools.
Ozone Catalyst 2015 7m £855 KO, £1,195 Complete
Ozone Catalyst 2015 9m £875 KO, £1,245 Complete - Staff Favourite
Ozone Catalyst 2015 10m £920 KO, £1,315 Complete - Staff Favourite
Ozone Catalyst 2015 12m £995 KO, £1,403 Complete - Staff Favourite
Ozone Catalyst 2015 14m £1,050 KO, £1,450 Complete
The Ozone Catalyst Kite Only comes as kite in bag with repair kit. Catalyst Complete Option is Kite, bag, repair kit, Bar and 25m Lines, Leash and Pump so ready to fly.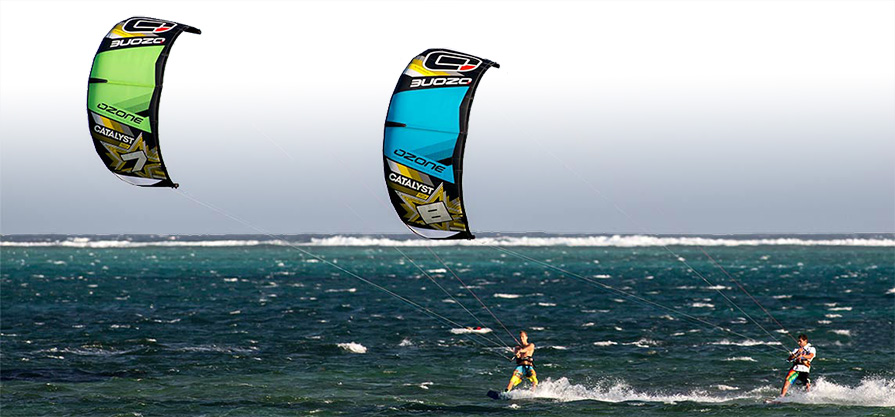 Perfect for beginners wanting to progress, even if just out of your lessons the Catalyst will nurture you and make you progress faster and more comfortably than you would imagine possible. The easy relaunch and depower make it great for land and water use and you won't grow out of it in use for years so you don't have to fear upgrading.
Freestyle with the Ozone Catalyst is awesome it performs great at boosting big floaty old school style jumps when you send it and dig in hard or controlled transitions with ease. Loop it hard and it gives plenty of wang an float out of the loop. Unhooked then the kite is still solid and easy handing giving C style feel and stability.
Wave riding with the Catalyst the quick handing, de-power and float opens up great opportunity in the wave. Surf Freestyle is easily possible due to the progressive handing and smooth lift without punishing the strapless rider. The Catalyst is not a pure wave kite as the Reo does that job but for riders wanting to ride waves surfboard and twin tip riding the Catalyst really fits the bill.

CONTACT PUSH AWAY CONTROL SYSTEM
The Ozone Contact push away control system is a clean and simple bar which is easy to use and maintain with push away release that totally flags the kite out on one line for complete control. Simple and easy to reload the safety gets you back up and riding in no time.
There are two safety modes for clipping on, The standard flag out which if you pull the release of let go of the bar when unhooked the kite drops to one line and normally is face down into the wind (great for self landing if needed). The other option is the Suicide which still flags out if the megatron is released while hooked in, but if unhooked then it doesn't flag out unless the chicken loop release is deployed. So if you drop the bar then the kite still has power. (not recommended unless knowing the risks, it's called suicide for a reason)
Ozone Contact Bar features are:
Anti twist flag out line, manually twist off centre lines with spinning handle.
Low friction centre core to reduce wear.
Auto positioning chicken loop for hooking back in from unhooked
Magnetic trim handle, stops the line flapping about when depowered.
Pu covered trim line, significantly reduces wear and easily replaced.
Comes in sizes 45cm, 50cm and 55cm.
Can be upgraded to larger loop size separately for riders with longer arms or wanted more unhooked riding.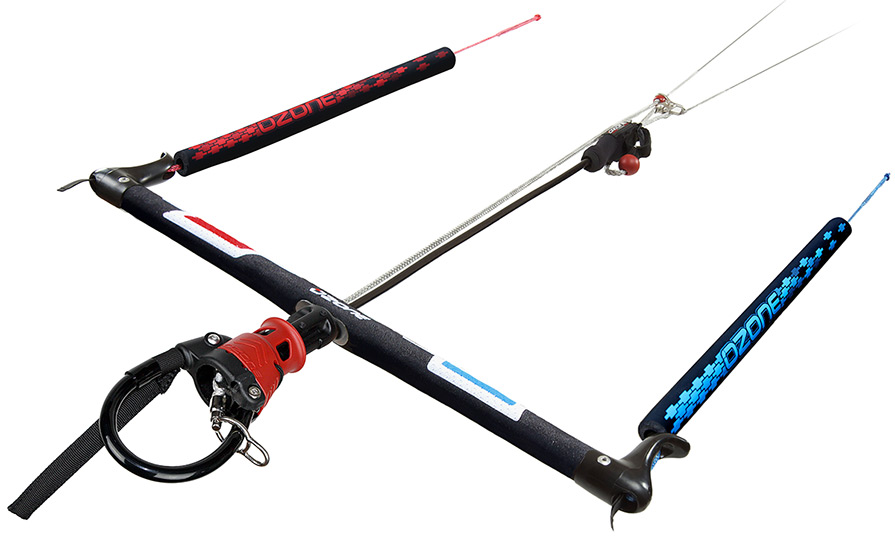 ATBShop Ozone Catalyst 2013 Review:
"I was really looking forward to getting my hands on the new 2013 Ozone Catalyst. I have been fans since the first model came out in 2010. It has always been a really solid freeride and progression kite for a wide audience of kitesurfers. Personally the 10m has always been the favourite - as with most kites the smaller and middle sizes are generally the most fun and get the best tuning. Because of this we went for a 12m on demo. Although the 12m has always been OK it has never had the wow factor that the smaller sizes had. I am glad to say that Ozone have done wanders for the 2013 model. The 12m is far more lively than it has been in previous years and feels a lot more playful. I hadn't had a kite session for month and after 10 minutes on the Catalyst was happily getting some good hangtime, doing some rotations and playing about in the waves. The Catalyst has always inspired confidence when riding and for the majority of kitesurfers out there this kite will perform as a true allrounder. The turning not only feels snappier but also seems to hold more power, great for downloops and transitions which require a decent amount of pull during a kiteloop to keep momentum going. The particular day I was riding was extremely wild in terms of conditions. Blue sky, squalls, horizontal rain and back to blue sky again. The Catalyst handled the variety of conditions very well. Despite the kite getting very powered at times I never felt unsafe. Stability was fantastic and with the kite low I could hold a lot of power to ride out the gusts. In all - Another fantastic kite from Ozone, improvements in all the right areas and cannot wait to spend more sessions thrashing about on this kite! - Oh, and graphically it has never looked so good (I got the red one ;)".