Longboard Wheels - Santa Cruz
Longboard Wheels from Orangatang, Cult, GFH and Lush Longboards. We only sell wheels used and preferred by our team and local riders. Whether you want a stiff duro, downhill bomber wheels or something you can slide straight "out of the box" we have the right wheels for you!

Santa Cruz is one of the original skateboard companies from back in the good old days. They now also manufacture snowboards, skateboards and bikes.
out
of stock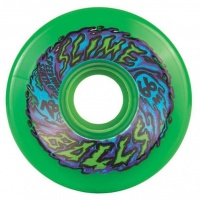 Santa Cruz Slime Balls 66's 78A Skateboard Wheels Neon Green 66mm.Slime Balls are back!