Scooter Decks - Lucky Scooters
We have decks available from Apex, Blunt, Crisp, District, Elite, Ethic, Grit, Lucky, MADD, Phoenix, Sacrifice, TSI and more! Scooter decks are the base of a scooter where you feet are planted on most of time. They come in many different shapes, sizes and styles. Different scooter deck styles include street or park. The headtubes and headsets also differ between certain models. Make sure you buy the appropriate headset when looking at standard and integrated decks.

All the way from the US, Lucky is one of the original pro scooter brands. Manufacturing complete scooters and free-style high quality parts to upgrade your scooter or build a custom Lucky scooter.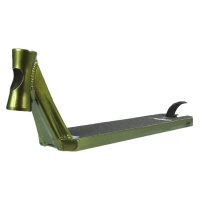 It's finally here! The eagerly anticipated Tanner Fox Sig Lucky Deck. In awesome Green and amazing weight and specifications.