In Stock & available for UK next day delivery
Stand out from the crowd with these incredible colour ways and get ready to shred at your local skate park. The Surge is suitable for all those budding beginner / intermediate riders who want to advance with tricks, spins & grinds.
From top to bottom we have the super comfortable grips, resilient to wear, keeping your hands fresh all session long. Hi-Tensile bars sit at 20in wide and 22in tall. The Hi tensile fork and double clamp hold the scooter together to the neochrome 4.5in X 19in deck.
110mm Alloy core wheels are formed from super high rebound PU in green featuring 9 spokes for added strength. The SST springless brake bosts less rattle, more 'dialled' and far greater strength compared to traditional sprung brakes.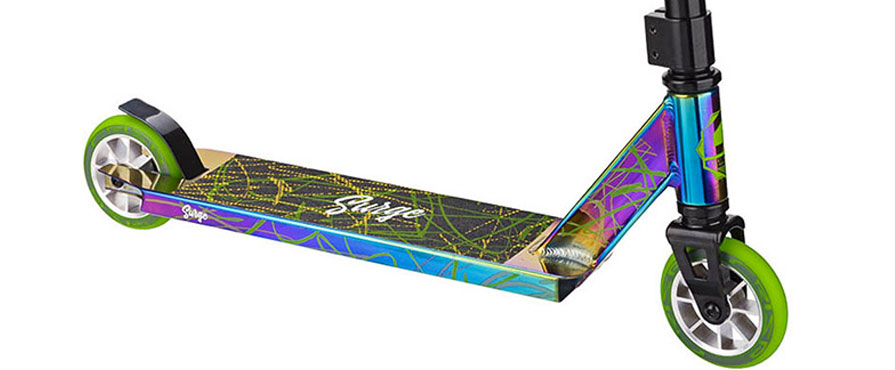 Specification:
• Concave Triple Channel Deck w Double D Down-Tube & Flat Bottom & Sides
• Deck Dimensions: 114mm (4.5") Wide x 482.5mm (19") Long
• High Tensile Fork and Double Clamp
• Hi-Tensile Raised Taper Bars 510mm (20.1") Wide x 560mm (22") High
• Crisp 110mm Super High Rebound Alloy Core Wheels
• SST Spring-less Brake
• 3.6kg Total Weight