District C050 Complete Pro Scooter in Colour Chrome
ScootDistrict17_Comp_C050_CCH/BK
The District C-Series are back with an all new mini HIC Compression, 110mm Eagle Supply wheels and looking fine! The perfect choice for anyone looking to break into scootering with a quality scooter!
Ready to take on 2018 in full force and mini HIC ready is the District C Series! Here we have the very smart looking C050 model in the ever popular colour chrome! The C050 is one of the first models to be released in the C-Series by District.
It is a light, well balanced design with everything a rider could want. Aluminium handlebars, a new, strong and easy to use compression system and an integrated headset make for a well put together, quality scooter that is easy to maintain. It comes with 110mm spoked wheels for extra ground clearance and to keep you rolling faster for longer!!
Simplicity, quality and in-expensive- three things that make one sweet entry level yet professional scooter!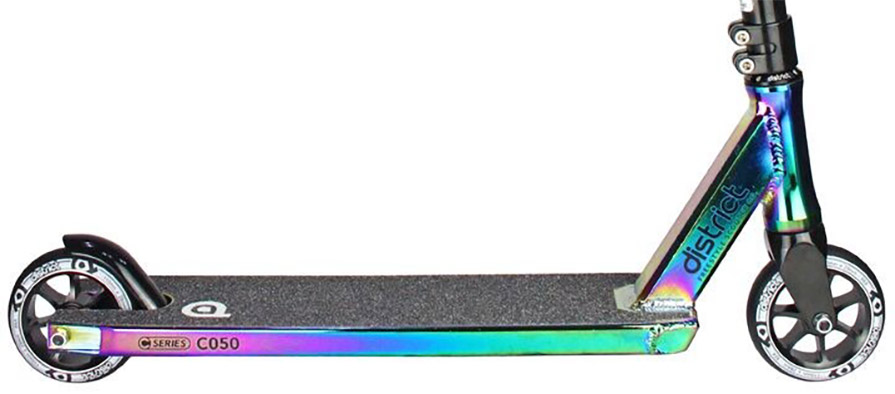 Features of District C050 Complete Pro Scooter in Colour Chrome:
​C-Series Scooter Deck - 115mmx500mm
Sealed/Welded Front with Square 81 Degree Headtube
Integrated Headset
NEW Cartridge Brake
NEW Mini HIC Compression
Aluminium Cold Forged Forks
560mm x 560mm Aluminium Handlebars
Standard 135mm TPR Grips
110mm x 24mm Spoke Wheels
District Graphic Griptape