Introducing the brand new District HTS Complete Scooter, this one is Pearl Black.
Over the years District Scooters have gained an outstanding reputation for their build quality. So for District to release a complete scooter labeled as 'High Spec' we know that is exactly what you are going get.
The new new lightweight HTS 4.9 inch flat edged bottom deck construction has made this a truly versatile scooter . It doesn't matter if you ride park or street. No categorizing here!
Paired with 120mm by 28mm wide District wheels will keep you rolling smoothly and the District rope grips are widely known for their unique softness and durability.

Features:
Deck Length: 19.7in
Width: 4.92in
Headtube Angle: 83°
Concave: 3°
Compression: Mini HIC Compression
Bars: 660x580mm / 26x22.8inch
Wheels: 28mm x 120mm District W120 Wheels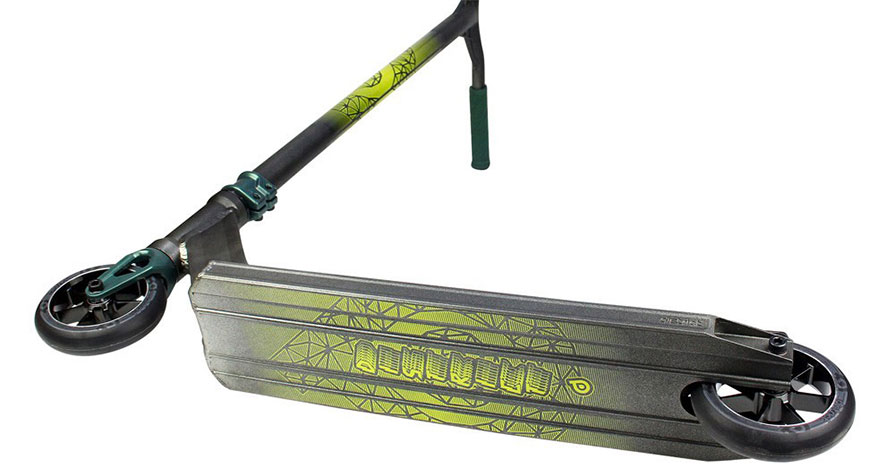 District Scooters
District Freestyle Scooter Co. was founded in 2007 as the pioneering brand of the modern freestyle scooter movement, setting the standard for scooter design, manufacturing and performance. Before District there wasn't a single brand on the market that offered custom freestyle scooter parts. District wrote the rules - others have only followed. Today, District is a highly evolved and globally recognised brand with an unstoppable mission to create the absolute best Freestyle Scooter products in the world.
The District team is driven by a single ideal: never be satisfied with the status quo. Innovation is at the very core of the brand and born from the voices of those who ride their products. Each and every part, from a tighter clamp to a higher performing deck, has been engineered to advance the sport and push riders to their limits.