Out of stock. Sorry, This item is now Discontinued.
Related Products
WOW, the new District HTS complete in the Titanium Grey and Orange colour way is certainly a looker. The orange details really make this thing pop and you are definitely going to stand out at your local skatepark riding this beast. This is one of districts newest offerings and features many new components such as the rope grips which I have personally had experience with and I was impressed with the amount of grip they offer and they also look super cool being such a rad design.
The District HTS Titanium Grey Scooter is a super lightweight scooter ideal for aspiring park riders but still at home on the streets with a wide deck for grinding rails and wider wheels allowing you to carve through obstacles.
District have gone for an aluminium Y style bar with gussets on the HTS to keep the strength whilst being super lightweight. District are sticking with the mini HIC compression which they have mastered on all of there completes keeping there overall weight down and ease of maintenance. Holding the bars onto this scooter we have a double clamp but this awesome looking clamp uses 6mm bolts meaning Rounding is a thing of the past, us scooter riders know the feeling of rounding a bolt (not good). So District have made a new sized deck for this scooter, ideal for park riders being 4.92 inches wide and 19.7 inches long its going to spin super quick and it has a nice width deck for your feet to find catching those big air tricks. Being this wide the HTS Scooter deck can still lock into stalls and grinds with minimal effort.
District being the sick scooter makers they are, they have also blessed us with wider wheels on this HTS Scooter, these being 120mm by 28mm and these aren't just any wheel these have a clever design so the middle is still the same width as a normal scooter wheel (24mm) meaning if you ever need to change up the setup, you have many different options (hint at a birthday/Christmas present).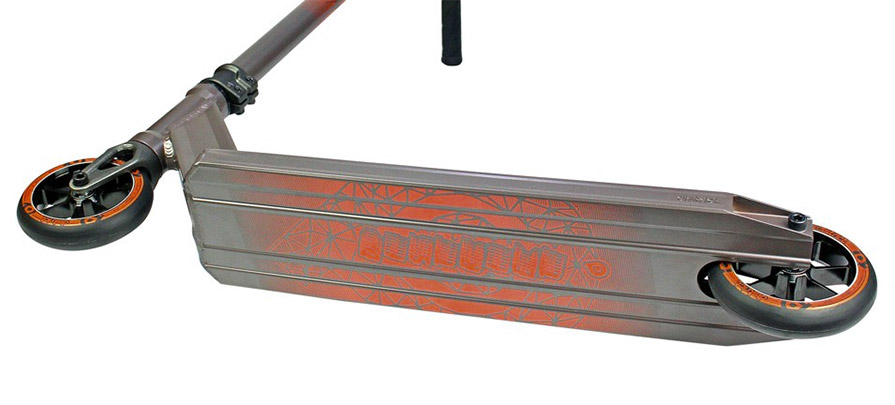 District HTS Titanium Grey Pro Scooter Features:
Deck Length: 500mm / 19.7inch
Width: 125mm / 4.92inch
Headtube Angle: 83°
Concave: 3°
Compression: Mini HIC Compression
Bars: Aluminium 660x580mm / 26x22.8inch
Wheels: 28mm x 120mm District W120 Wheels