Out of stock. Sorry, This item is now Discontinued.
Related Products
New from Mad Gear Pro is the VX8 Pro Complete Scooter Range. A Sky Blue deck with black bars hinting subtle yet perfectly matched blue accents throughout. 2 tone grips are amongst one of the most popular grips on the market and it's clear to see why.
Looking at the scooter we start off with the 150mm TPR Grind Grips in 2 tone colours. Excelled comfort and sweat control maintains throughout boasting great grip all session long. 21in Wide by 23in Bars are made from 4031 Japanese Cr-Mo and boast one piece construction reducing the risk of stress fractures. The alloy clamp features cut outs reducing the weight whilst maintaining strength and clamping power.
Threadless M1 HIC Fork gives huge advantages when it comes to easy scooter maintenance. These forks will even fit up to 120mm wheels! MGP new 110mm Corrupt Hollow Core Wheels come in with a PU Duro of 88a increasing grip when it comes to cornering and speed in a straight line. They are loaded up with Abec 9 bearings keeping you roll further with ease.
A 4.5in wide deck gives you perfect balance when it comes to balancing on rails, and boasts a huge footplate for easy catching of all of your tricks. This will in turn really take your scooting to the next level. Powder Coated finish holds the colour extremely well keeping your scooter looking newer for longer.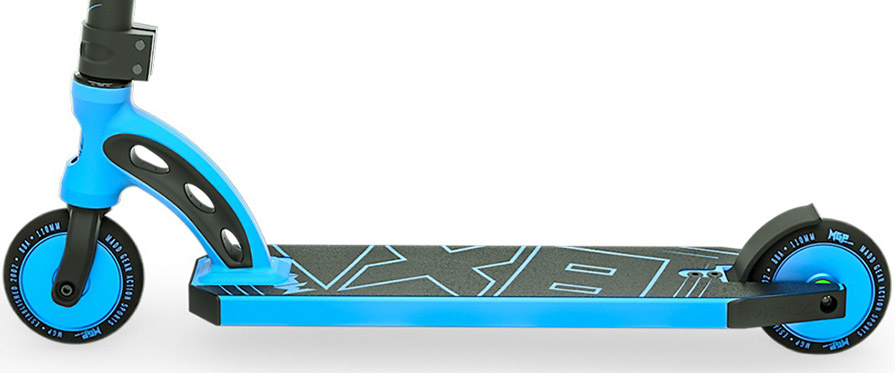 Specifications of MGP VX8 Pro in Sky Blue
150mm Grind Grips in Two Tone
21in Wide X 23in Tall 4031 Japanese Cr-Mo Bars - One Piece
Threadless M1 HIC Fork fits up to 120mm wheels
MGP 110mm Corrupt Hollow Core Wheels 88a with pre fitted abec 9 bearings
4.5in Wide X 19.5in Heat Treated Alloy Deck Powder Coated
110mm Composite Blitz Brake
3.6kg Total Weight