Out of stock. Sorry, This item is now Discontinued.
Related Products
Here We have the Ride 858 GR complete scooter in Camo, these guys like to go bold with their themes and we love it. Fans of Camouflage will be loving this colour way, hide away into the background. 858 bringing the goods at a seriously competitive price. Featuring parts you would find on a complete custom build we feel this is one of the best value for money completes on the market.
Starting at the top we have the super soft 858 grips which feel great in the hand and sit at a perfect length. Moving down we have the great looking aluminium slight v bars with gussets for support. These measure in at 560mm high by 520mm wide which colour match the rest of the scooter perfectly. 858 have gone with a double clamp on the GR with cut outs on the sides to save weight. The deck is super smooth using a fully integrated headset keeping your bars and deck spinning. 858 using a totally different head tube design than their other completes which features a cut away at the top. 858 really have focused on reducing the weight of this scooter and you will be shocked when you pick it up.
Just look at those forks! 858 forged GR forks looking sweet in the matte black finish! fitting the Bob's ya Uncle 110mm hollow core wheels inside, these wheels are one of our favourites! Not many companies are using hollowcore tech on their complete scooters so this is a bonus.
Overall this is a seriously high spec park scooter which will aid progression massively for an absolute steal price.

"This park scooter boasts some of the highest specifications on a complete. Hollow core technology on completes is rare and a huge bonus for strength and weight loss."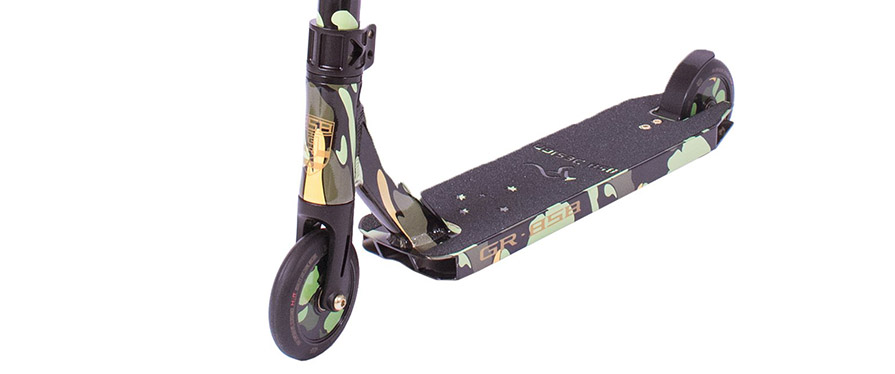 Ride 858 GR Camo Specifications:
Bars: 858 Aluminium Handle Bars - 6061 T6
Bar Height:­ 560mm (22 inches)
Bar Width:­ 520mm (20.4 inches)
Oversized Bars
Grips: Ride 858 Soft Grip Compound
Deck: Flat Bottom Deck for improved grinds
Deck Size: 480mm (19 inches) Long by 115mm (4.52 inches) Wide
Fork: Forged GR Fork (IHC Compression)
Clamp: Oversized IHC Double Clamp
Headset: ­Fully Integrated
Brake: 2 Bolt Stainless Steel Flexfender
Wheels: Bobs Ya Uncle Hollow Core Wheels with High Quality HTR (High Temperature Resistant) Urethane
Bearings: ABEC 11
Wheel Size: 110mm x 24mm
Total Weight: 3kg
Neck Tube: Extruded 83º Head Tube Angle