Out of stock. Sorry, This item is now Discontinued.
The all new Dragon NFX2 Danny Davis Signature Snowboard Goggle with Dark Smoke Lens Snowboard Goggles is the ideal choice for anyone looking for a wider field of vision and their first step up to injection moulded lenses. The NFX2 brings it's own style to the table and with Dragons awesome Swiftlock Technology ; difficult lens changing hassle is a thing of the past! Having injection moulded lenses means a step away from conventional stamped lenses offering optically correct vision where you need it most. This years model features Danny Davis Signature graphic on the head strap and an orange frame with a Dark Smoke blackout lens.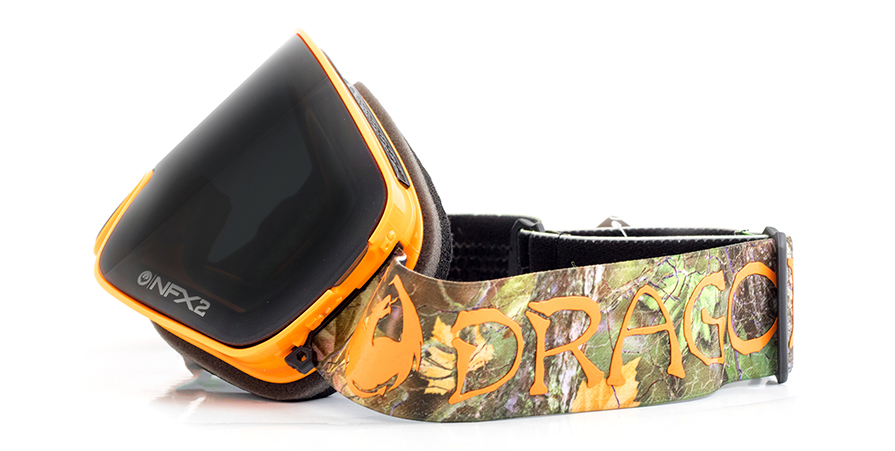 The Dragon Swiftlock system has a lens with built in framework that then is latched and released with a small lever on each side of the goggle. Lift the lever up to unlock the lens and it pops out. Put the lens in and clip it down to lock back down secure. These are a mechanical locking latch so there is no chance of the lens coming off if the latch is secured right. Super quick to change even with the goggles still on your face!
Featuring an air tight lens-to-frame integration the NFX2 also features armoured venting to prevent any snow from breaching the inside of the goggle, chuck in Dragon's patented Anti-Fog Treatment then you have yourself one high-end snowboard goggle that meets all the requirements of contemporary mountain riders. For when the sun descends behind the mountain or your hit with a white out, simply flick the Swiftlock's down and change over to your spare Yellow red Ion Lens and see the low light come to life!
Dragon NFX2 Snowboard Goggles Features and Specifications:
Danny Davis Pro Model
Swiftlock Lens Change System
Patented Frameless Technology
Optically Correct 6 Base Injected Cylindrical Lens
Super Anti-Fog
Armored Venting
100% UV Protection
Triple Foam with Hypoallergenic Micro Fleece Lining
Silicone Strap Backing
Helmet Compatible
Medium Fit
Dark Smoke Lens- Sunny conditions
Spare Yellow Red ion Lens- Low light conditions