Snowboard & Ski Face Masks - Celtek
Essential equipment for the slopes, the snowboard or ski facemask. Keeps the wind and snow out of your face and stops the drafts down your neck on the hill or the lift. Keep yourself warm and dry with our range of face masks, balaclavas, snoods, ninja masks in a range of materials depending the comfort, temperature and weather requirements you have. Don't go on your snowboard holiday without your facemask or neck warmer!

Celtek was started in the early 2000's by brothers Erik and Bjorn Leines. Celtek's range of gloves & face masks have been gaining ground the past few years with bold & loud graphics not seen by any other company in snowboarding. Celtics 'Bitten by a Mitten' range of snowboarding mitts are certainly a staff favourite at ATBShop.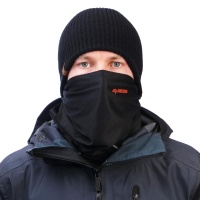 Celtek Scribble Black Face Mask features a mesh front for breathability & a warm soft fleece lining.