Flows offering of what they say is the most fun mix of flex and response, the Flow Fuse Fusion binding for 2019. Perfect for charging the whole mountain and also responsive in the park for those steezy tricks.
"The Flow Fusion PowerStrap provides maximum support and energy transmission."
The new Fuse features many top technical components such as their LSR buckles (locking strap ratchet). These allow for easy adjustments and then just lock the ratchet off whilst you shred. Glass Filled-Nylon Baseplate and Hiback provide a softer, more playful feel. The baseplate is rockered and uses aluminium side wings to aid natural flex when riding. canted footbeds at 2.5 degrees also help to align the knees. these bindings have been made with comfort in mind.
Another new feature for 2019 is the Asym Uniback, this Hiback is a one piece asymetrical design with a balance of comfort and support, also made with a boot in mind its designed to follow the contour of a boot with the canted riding angles. Also this Hiback triggers flow's active strap tech making this binding a hella easy snug fit straight off the lift. We love ho as you pull down the reclinable Hiback for step in entry it lifts up the strap to make your foot simply slide right on in. then just pull up and lock it down.
Flow Bindings UK Size Guide:
M - UK 3.5 - 7.5
L - UK 6.5 - 10.5
XL - UK 9.5 - 14
The Fusion PowerStrap... This 3D strap is designed to be comfortable yet supportive and not give those horrible pressure points that some other bindings give witch should allow you to be in your board longer throughout your day. its been stated by flow that this strap offers maximum energy transfer and support, working perfectly with those LSR Buckles.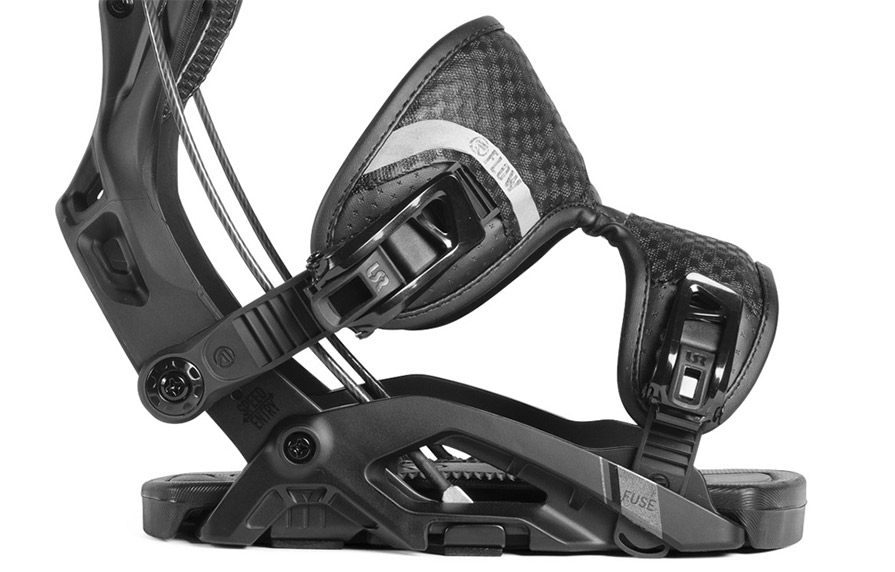 Flow Fuse Fusion Binding Specifications:
Moulded one piece HiBack
LSR locking buckles
Fusion one Piece strap
Active Strap System
EVA,Canted Footbeds
Speed Entry
Rockered Baseplates
Riding Specs:
Comfort, 8/10
Response, 7/10
Toe-Heel Stiffness, 6/10
Lateral Stiffness, 6/10