In Stock & available for UK next day delivery
Offering all the support needed to make laps of the park something of a dream like experience, the Flux R2 Snowboard binding combines all the specs and tech designed to offer a freestyle binding like no other. The soft flexing high back made from a super tough fiber mix nylon uses a narrow middle and wider top for better lateral support while offering torsional flex where it matters. Chuck in a performance blend, lightweight and freestyle orientated baseplate for a more natural feel while jibbing and sliding across rails, then you're left with a binding that can really take the tweaks and grabs to the next level. Using a single density EVA base plate padding the R2 will also give a level of dampening for when you send the kickers a little too fast!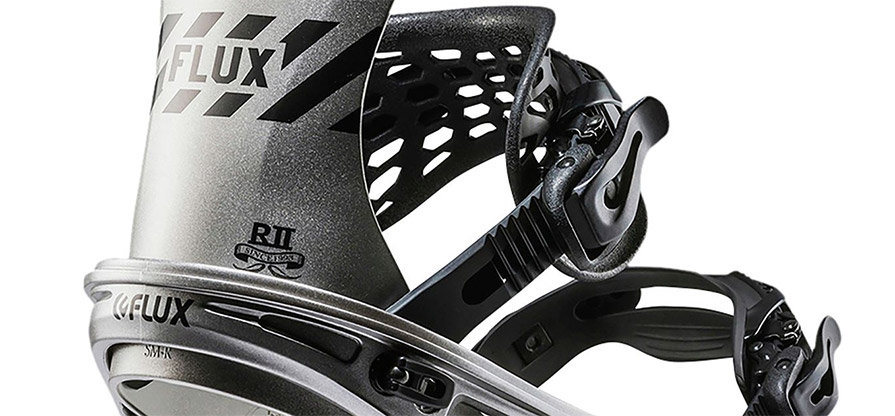 Flux's Honeycomb ankle strap are some of the comfiest straps we have ever ridden with, so much so it is almost like there is no bindings there at all! This Honeycomb strap combined with F.T.M. Versa toe strap evenly disperses pressure across the top and front of your boot keeping you locked in and eliminating and pressure spots. Another cool feature to these bindings is the straps integration between the high back and the base plate offering a better coverage over the top of your boots.
With a fully tool-less adjustment design you can adjust your set up on the go without hassle! For those of you looking for the new ground breaking snowboard binding to rip park and power your way over the groomers then look no further than the mighty R2 binding!
Size guide:
Medium: UK 7 - 9
Large: UK 9+
The Flux R2 Mens Snowboard Binding tech specs:
Soft flex
Park and freestyle
Lightweight Alpha baseplate
Super tough Nylon high back
Single density EVA baseplate padding
Honeycomb ankle strap
F.T.M. Versa toe strap
Micro ratchets
Tool-less adjustment
Lifetime warrenty