In Stock & available for UK next day delivery
For those of you who cant quite decide what they enjoy riding the most; piste, back country powder runs or even laps of the park and hitting natural features. Being so lightweight and featuring a 4/ 10 stiffness rating the Flux TT snowboard binding offers a huge range of versatility in performance throughout the mountain with all the juicy extras!
Using Flux's Alpha high back for a lightweight and even flex option, we also have a Flux Genetic base plate made from a performance blend of nylon and fiberglass to create a mid flexing and rigid design for all mountain riding. The Honeycomb ankle straps on these bindings are some of the comfiest straps we have ever ridden with, so much so it is almost like there is no bindings there at all! This Honeycomb strap combined with F.T.M. Versa toe strap evenly disperses pressure across the top and front of your boot keeping you locked in and eliminating and pressure spots. Another cool feature to these bindings is the straps integration between the high back and the base plate offering a better coverage over the top of your boots.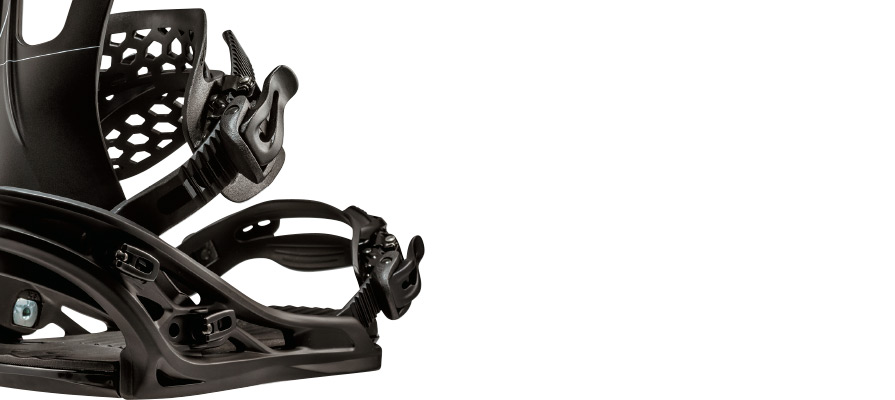 Tool-less adjustments mean you can adjust your bindings on the fly without hassle and a single density EVA footbed has been put in to cancel out any vibrations from lumpy conditions.
For those looking for a quality performance, slick design and all mountain snowboard binding that can keep up, look no further that the Flux TT!
Size range:
UK 6-9: Medium
UK 9 +: Large
The Flux TT Black Mens 2019 Snowboard Binding tech specs:
All mountain riding
4/ 10 flex rating (soft)
Alpha High back
Rigid design Genetic Baseplate
Super tough nylon and fiberglass performance blend
Single density EVA footbed
Honeycomb heel strap ver. 2.0
F.T.M. Versa toe strap
Micro ratchet buckles
Tool-less adjustment
L. Guide
Micro adjuster forward lean
UU Fit