Out of stock. Sorry, This item is now Discontinued.
Related Products
The Flux XF is stepping the game up in response from DS and other more freestyle bindings. The transfer baseplate and tough nylon fibre highback give stiffer responsive connection but with super comfort. The Flux XF's Waffle Strap with UUFit and the Flux FTM toe strap ensure you are locked into the binding solid but also super comfortable without any pressure points. New buckle design also includes a beer opener if you are stuck on the mountain!
Stepping up to a 8/10 for stiffness and 8/10 for lightness the Flux XF is there for the more aggressive freestyle freeride rider wanting the Flux comfort and maximum response.
Starting at the bottom and working up the XF baseplate is a nylon fibreglass mix for response and have a disc compatible with 4x4 and channel bindings. The baseplate is also completely tool less design so just twist and lock to keep everything in place and it can't come loose. There is also adjustable toe and heel ramps for fitting the boot to the binding perfectly. Flux also has the FooTon footbed that stops snow from building up and gives great feedback and cushion.
The High back is a one piece smooth mid flexing highback, nylon fibre mix that is perfect for more aggressive all mountain riding and has forward lean adjustment on the back for a change from most flux bindings allowing a more aggressive forward lean angle if preferred.
The straps are the Flux Waffle Strap with two layer construction and superb fit and comfrort and the full flux FTM toe cap that is patented design for flux. The straps also have the Patented Flux UU fit which attaches the ankle strap fixing further round the back of the heel so it acts like a noose and does not increase boot pressure. Finally there is one last cool feature which are the Beer Buckles which offer more leverage when locking down and just incase you need something to open your beer!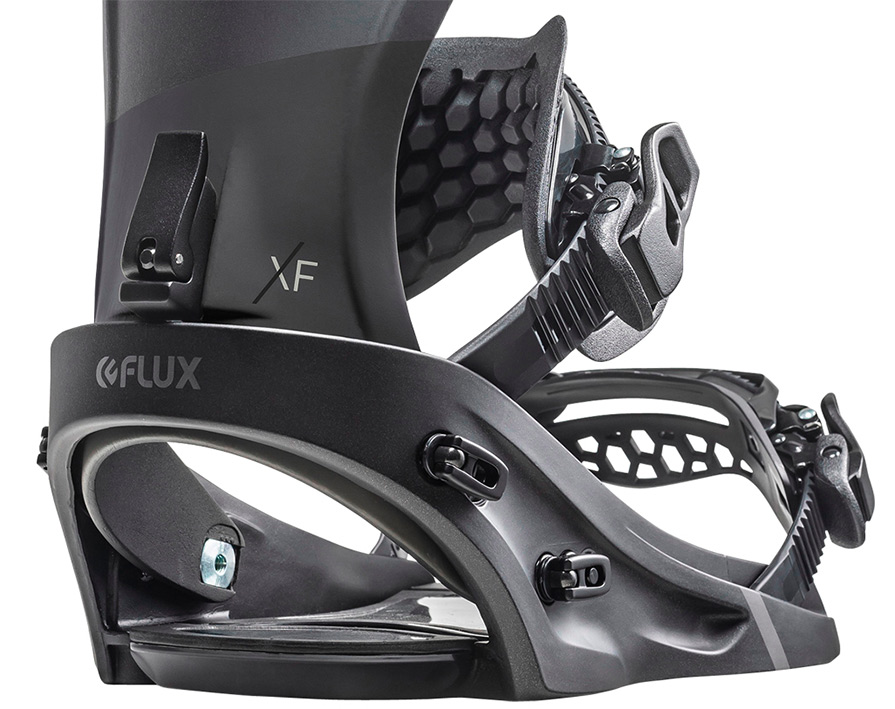 Size range:
UK 6-9: Medium
UK 9 +: Large
Flux XF Metallic Black Snowboard Binding Features and Specifications:
Stiffness 8/10
Lightness 8/10
XF HIGHBACK
Super Tough Nylon - A fiber mix with a medium flex that is perfect for all mountain riding.
Micro Adjuster - 2.5 degree adjustment increments for the forward lean adjustments.
XF BASEPLATE
Transfer Base - Lightweight and focused on direct power transfer.
Performance Blend - A nylon and fiberglass mix for all-around performance.
Toolless Lever - Make adjustments on the fly with no tools.
Adjustable Toe & Heel Cushion - Change to fit foot size to avoid the loss of leverage.
FooTon - Designed with a special material to prevent snow buildup and to provide more direct board feel with all the cushion you need.
4x4 and Channel compatible disc
XF STRAP
Waffle Strap - The new waffle strap is built to achieve next level response with two layer construction focused on direct power transfer and a seamless fit.
Beer Buckles - Newly engineered buckles give you more leverage when cranking down on the straps allowing you to get to the last click with minimal effort. Features a bottle opener in case of any emergencies.
F.T.M. Versa - Softer material and a better holding top or toe strap option. Designed to fit any boot on the market. (Patent: US6, 974, 149 – US7, 278, 651 – US7, 374, 194)
L-Guide - For a smoth in and out.Holds ratchet ladders down.
UU Fit - A 360 degree wrap evens out pressure for natural feel and hold. (Pantent: US6,604,746)