In Stock & available for UK next day delivery
A freestyle focused design for focused freestyle riders, the Salomon Womens Hologram Snowboard Binding caters for all the comfort and flex requirements of even the most demanding all mountain riders! Featuring a mid flexing high back and Salomon exclusive unique, soft flexing heel cup for a larger range of mobility, there is no other binding that will allow you to press, tweak and offer support like the Salomon Hologram Binding.
Featuring an asymmetrical, medium high back flex for ultimate freestyle performance across any and all terrain, the Hologram also uses Salomons truly unique Shadow Fit base plate which uses a soft and flexible heel loop that wraps the heel of your boot for your very own personal fit. This results in superior comfort with additional support and response that no other binding on the market can offer. To ensure maximum lateral support and response Salomon have utilised a Kevlar QuickWire system for efficient energy transmission into the board. To encourage a more natural flex throughout the binding the Hologram uses an integrated forward lean system that can be adjusted from the baseplate of the binding.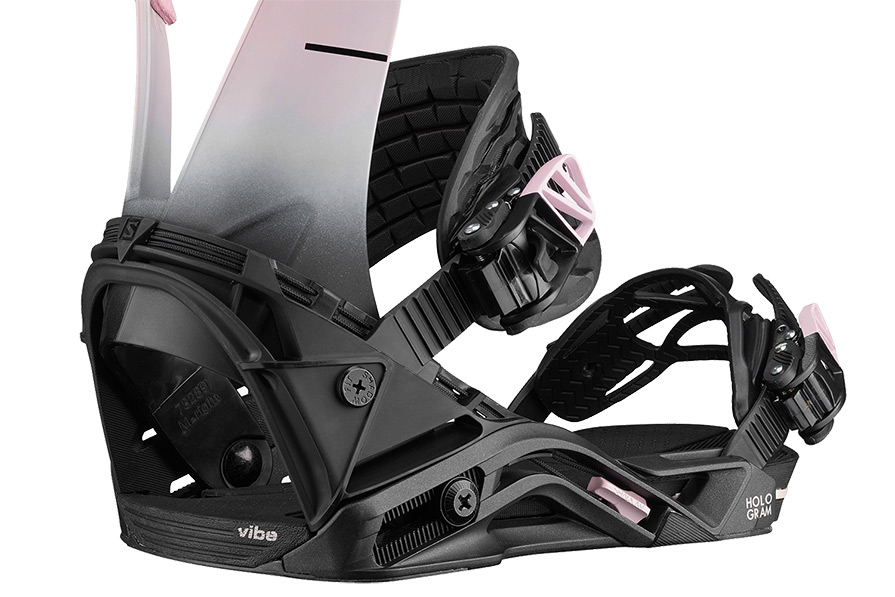 Canted footbeds anatomically align your knees to match a freestylers natural stance while a Vibe foam reinforced heel has been added to absorb all the vibrations and heavy impacts to be expected with your everyday freestyler snowboarder. Salomon have gone to great lengths ensuring this binding is as comfortable as can be with a Shadow Heel Strap that efficiently disperses pressure over the top of the boot to eradicate pressure spots. A Locked-Up Toe Strap has been added to encase the front of your boot and pull your heel in to the back of the binding for a more locked in feel with zero heel lift.
The Salomon Hologram Black Pink Womens Snowboard Bindings specs:
Womens specific fit
Medium flex
Comfort design
Shadow fit baseplate
Shadow strap
Vibe cushioning system
Kevlar quickwire system
45% Composite construction
Adjustable toe ramp
Universal disc
Integrated mounting system Power hook
Unite disc compatibility
Hologram asymmetrical highback
Canted footbed
Locked-up toe strap
Micromax strap
MP Ratchet
Aluminium buckle