Out of stock. Sorry, This item is now Discontinued.
Related Products
The Force is a binding that represents Union's 13 years dedication to product progression. The Force delivers durability and performance for the most demanding of riders and this year it's even better!
A favourite with the Union Team there was always a binding seen in the videos but never available to buy! The Team Force is an all white Union Force Binding but with special the Team Highback. Obviously this will make you ride as good at Travis Rice, Scott Stevens and all the the Union Team riders in the video parts!
Featuring a super light weight and bombproof construction using a stage 4 duraflex ST base, this years Force comes fitted with a classically designed, multizonal Force Team high back with a slightly stiffer bottom to it. This results in a more direct channeling of force through the binding giving you more precise and direct control over your board.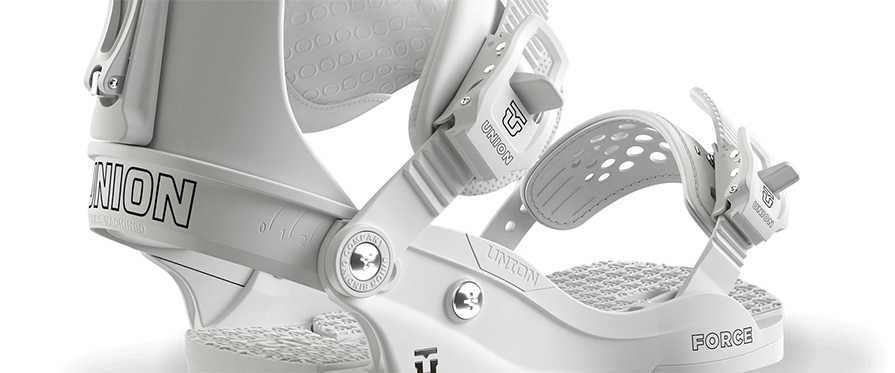 It is an indestructible binding that will take on any condition or terrain you throw at it, it is a no BS binding that has all the features that you will need and nothing that you don't making it very lightweight. extremely comfortable, season after season dependability all supported by a lifetime warranty, you simply can't go wrong with the Union Force Bindings.
A highly recommended and amazing bindings that will literally take on any terrain you throw at it; park, street, mountain, powder, and freestyle. These bindings will cater that most demanding riders and will stay very strong throughout many seasons. just like any Union binding you will get an amazing bang for your buck with these bindings as no other bindings will able to compete with the Union Force within its price category.
"Whenever i'm shipping out bindings to the team, I always throw in an extra pair of Forces. It's our tried-and-true workhorse that never lets ya' down." - Riley Goodwin
Key technology and features of the Union Force Snowboard Bindings:
Stage 4 Base - A stiff base combined with dual density injected bushings, provides excellent performance and response, comfortable dampening and a true board flex and it also comes with a lifetime warranty.
Magnesium Buckles - 12 years on the market, Union magnesium has four times the strength of aluminium with only half the weight.
Team Highbacks - Flex and tweak ability where you want it, support and durability where you need it. Next level heeled response and board control.
Tool Free Adjustment - No screwdrivers needed, quick and easy on hill adjustment of ankle and toe straps.
Extruded Heelcups - Designed for optimum heel hold and minimisation of drag. Union Extruded Aluminium are the strongest in the business.
Baseplate: Stage 5 Duraflex
Bushing: Multi Density Thermoformed EVA
Straps: Sonicfuse
Lifetime Warranty
Baseplate Stiffness: 6/10 (Standard)
Highback Stiffness: 7/10 (Standard)
Union Force Binding Boot sizes:
Medium- UK 6-10
Large - UK 9.5 - 13
​