Out of stock. Sorry, This item is now Discontinued.
Related Products
The Academy Propacamba Snowboard is your butter park machine featuring a classic twin tip shape and powered up micro camber bend offering explosive ollies and some serious g force sending the kickers. With the fool proof Never Summer construction from the factory direct to the mountain, the Academy Propacamba is one of the only boards on the market to come with an incredible two year warranty. Built to send Propacama doesn't just take your riding to the next level in the park, a Durasurf 4501 Sintered base ensures flappy cheeks and watery eyes rocketing down the slopes. Get low with some smooth carves, butter about the piste or beat your mates to the bottom of the mountain. The Academy Propacamba snowboard has something everything but has roots that stay loyal to the park.
For anyone who wants to take their parking riding to a whole new level with a board they can depend on, the Academy Propacamba delivers the construction technology, response and power to make your session one to remember.
With a mid level stiffness and soft torsional flex there is plenty of playfulness to butter your way out the park and onto the steeps with a harmonic tip and tail dampener and RDS 2 dampening system to dampen any vibrations at high speeds. Elastomeric underfoot stabilisers provide you stability while the infinitely famous Durasurf 4501 Sintered base provides you with all the speed you will ever need to beat your mates to the bottom of the mountain. A vario power grip sidecut offers all the outstanding control with every point of contact providing excellent power transfer from heel to toe and the carvability of a razor blade.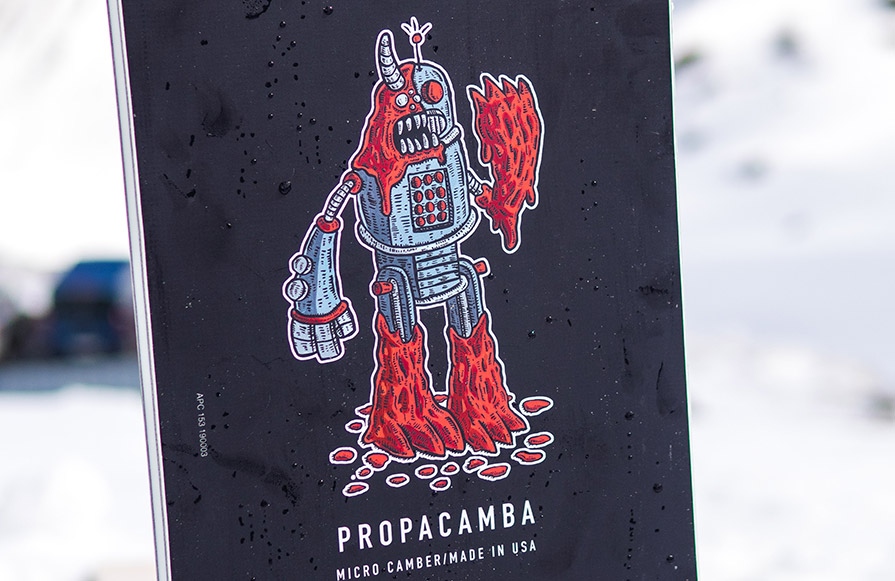 Struggling to find the right board for you? Maybe you are a little confused as to which size to pick? Take a look at out our Snowboard Buyers Guide for more information on what will be right for you!
The Academy Propacamba snowboard measurements
LENGTH
EFFECTIVE EDGE
NOSE WIDTH
TAIL WIDTH
NOSE LENGTH
TAIL LENGTH
SIDE CUT RADIUS
WAIST WIDTH
STANCE RANGE
145
105.9
28.4
28.4
19.8
19.8
8.5/7.6/8.5
24.6
18-22.5
150
112.6
29.15
29.15
20.2
20.2
8.85/7.95/8.85
25
19.5-24
153
112.6
29.15
29.15
20.2
20.2
8.85/7.95/8.85
25
19.5-24
155
114.3
29.37
29.37
20.35
20.35
8.95/8.05/8.95
25.1

The Academy Propacamba Snowboard technical specifications:
True twin
Micro camber construction
Never summer light wood core
Durasurf 4501 sintered base
Sintered P-tex sidewall
Vario power grip sidecut
Low profile tip and tail
Press flex core
Harmonic tip and tail stabiliser
Full wrap metal edge
Matte top sheet