In Stock & available for UK next day delivery
The Ranger enters 2019 with some serious attitude towards freestyle and all mountain ripping! All ready cemented itself as an all time team favourite Endeavor have created this board with the perfect combination of flex and profiling to offer a snowboard that will provide exceptional stability and catch free yet powerful performance. With a multi camber profiling that provides an early rise in the nose and tail for clearance on the deeper snow days, the Ranger also gives you the power you desire with every turn while locking on to rails in the park has never felt so good. With enough pop and snap to send you to the moon and back let the Ranger guide the way to the thrills of a life time.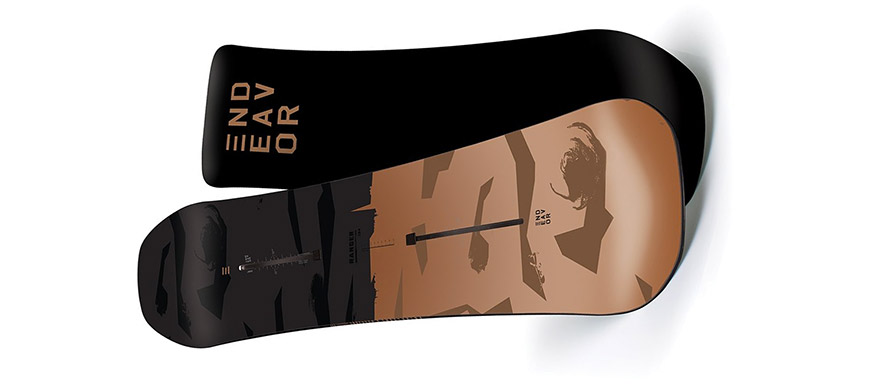 Utilising a slightly wider nose and tail you will find the Ranger sits into presses that you could only dream of while Endeavors increasingly popular and trade mark lifted contact points offer a much more catch free freestyle ride. By raising the contact points by 2mm and not bevelling the edge the Ranger offers grip when you need it and a much more forgiving and catch free ride when you don't for confidence on the more heavier and unplanned landings. Endeavor have added in Smoothride sidewalls having been redesigned from their previous ground breaking and award winning urethane sidewalls; Smoothride sidewalls cut down the environmental impact without sacrificing the very same insane flexing capabilities with superior durability and impact absorbing properties. Using tri-axial fibre glass to store energy throughout the board the Ranger Snowboard also includes a pre cured layer above the core for better response and torsional rigidity when flying down the mountain.
Having taken on the licensing for the innovative Channel technology used on Burton Boards, Endeavor have created a board that not only has a fully customisable stance that is far quicker and easier to setup than traditional inserts, but this system allows the board to flex far more naturally underfoot. To finish off the Endeavor Ranger Snowboard in all of its glory we have Endeavors E-Tech II Construction consisting of reinforced birchwood channel and a Dura Surf 4001 Sintered base to ensure that extra bit of height on each kicker that makes the difference!
The Endeavor Ranger Snowboard specifications:
Freestyle/ All mountain
Twin shape
Multicamber
Mid flex
Poplar/ Birch channel reinforcement
Dura surf 4001 sintered base
Tri axial
The channel
Smoothride urethane sidewall
Multicamber
a href="https://www.atbshop.co.uk/builder/snowboard-packages-discount">