Stand Up Paddle Boards - RRD - Leashes
We supply SUP's that are an ultra portable, designed for practicality, no roof rack or long wheel base van required here. They are inflatable and are perfect for recreational paddling inland and also in small waves at the beach. There is also a range of fixed length and collapsible paddles on offer.

RRD or Roberto Ricci Designs is an Italian brand and has been in the watersports world for over 20 years and the owner and designers live and breath watersports. Kitesurfing, Paddleboarding and Windsurfing and many other accessories for the water. Great build and technology is key to the brand and also great looking design is super important to them.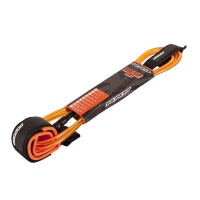 The 8ft RRD SUP Surf Leash is ideal for anyone surfing or river cruising.