T-Shirts - Grizzly Griptape - Skateboarding
We all already own more T-shirts then we really need, but sometimes it just isn't enough. Tees also make a great gift idea for people not sure on what to buy. We sell T-shirts to match our lifestyles, so whether you are into Kitesurfing, Wakeboarding, Snowboarding, Skating or any other rad board sports we should have some hard wearing fashion to back you up.

Grizzly Grip is from Tory Pudwell a top pro skateboarder and has some amazing riders on their team. Grizzly Griptape is always popular with local skateboarders and some cool designs.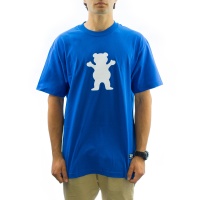 Wanna look like an OG? Then get this tee!