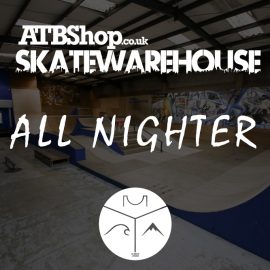 The second all nighter for 2019 and its going to be amazing!
*You've been asking for it and now it's here.. ATBShop Skate Warehouse is pulling an All Nighter for the 3rd year running and you're invited!*
*If you're over 12 years old, it's your chance to skate or scoot from 6pm on the 31st of May until 9am the next day.
There will be a FREE Midnight Ice Cream and a FREE BBQ Breakfast in the morning but bring extra drinks and snack or money to by treats throughout the night as you will need your energy for this one!
There's gonna be guaranteed fun all night with loads of games and competitions plus your ticket also gets you a midnight snack and breakfast in the morning! The park can get cold overnight so make sure you bring warm clothes and a warm sleeping bag too, just in case you need a power nap to recharge during the 15 hour session!
*Advance booking for this event is essential and costs just £25 for members and £30 for non members. Make sure you book early to secure your place, call us on 01793 523244 or book in store as tickets are limited.
Buy All Nighter Event Tickets Here
Put the date into your diary for an action packed night of fun at Swindon's only indoor skate park!
The event will start at 6pm on Friday the 31st of May but you can arrive any time between 6pm until the doors close at 10pm. Then that's it we are all in it together until everyone has to be collected by 9am the next day!
During the night there will be fun prizes to be won for all ages and abilities, a midnight snack at 12pm and a free BBQ just before we all depart at 9am!
As always we ask that all riders are 12 years and above for this event.
FAQ:
Do I need to book?
– Yes, this event is always a sell out so please book ASAP. No ticket = No entry.
You can buy tickets for this event on our website or in-store.
Is there food and drink?
– Yes. We offer a midnight snack of ice cream to keep them going and then a BBQ breakfast in the morning to wake them up. This is included in the ticket price.
There's also water available so they'll have plenty to drink. We also have a vending machine on-site if they want to buy anything extra.
Should I leave them some money?
– Yes if you'd like. We sell hot food and drinks in our cafe and we also have a vending machine selling the usual selection of chocolate bars and fizzy drinks.
What time does it start and finish?
– This event starts at 6pm but you can arrive anytime between 6pm and 10pm.
Please make sure that you have collected your child no later than 9am on Saturday morning as we will be closing the shop and kicking everyone out in order for us to set-up for the day.
Whats the age limit?
– 12 years old and over.
Who's looking after everyone?
– We have lots of staff supervising the entire event, most are first aid trained.
What if my child wants to leave early?
– If at any point a child wants to leave early or would like to call home they can and do at anytime during the event and we don't pressure them into giving a reason. Parents are also welcome to call us and check in at any time.
How secure is the venue?
– We lock the front door after 10pm so that no one can go in or out unless supervised. No one is allowed to leave the site once they are here until they are collected in the morning.
Will they sleep?
– 99% do not sleep but we always recommend that they pack a sleeping bag and warm clothes as it can get cold, just in case!
My child has a medical condition – will they be ok?
– You will need to sign a consent form before when you drop off your child. If there are any issues that needs to be brought to our attention please write them on this form AND speak to one of our staff if you have any concerns. Please also leave us with any inhalers, epilepsy pens etc. What they would normally carry must be here for them.
I have a question not listed…?
– Call us on 017932 523244 or drop Diana an email. She's run lots of successful all nighters so don't worry she's happy to talk about anything.
Related posts