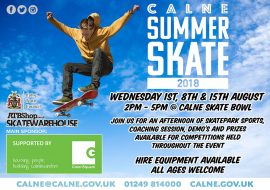 This summer Calne Town Council along with Green Square housing will be hosting three awesome skatepark sessions at Calne Bowl on the 1st, 8th and 15th of August from 2pm-5pm plus another on the 15th of September, 2pm-5pm.
These three sessions will be run by the ATBShop Skate Warehouse crew and everyone is welcome to join in and take part.
Bring your own gear or borrow ours – all we ask is that everyone who rides wears a helmet. We will have a few which can be borrowed but not many.
ATBShop staff and crew will be running coaching sessions to teach you all you need to know whether you're a scooter rider, skateboarder or BMX rider. We'll also be organising mini competitions with prizes to be won by all ages and abilities over the event plus the ATBShop team will be running demos!
All of this is 100% free so make sure you tell all your friends and family about this amazing event and get everyone down to the park for an action packed afternoon.
No need to book – just turn up from 2pm.
For more information follow us at….
www.facebook.com/ATBShopSkateWarehouse
www.facebook.com/CalneTC
Related posts