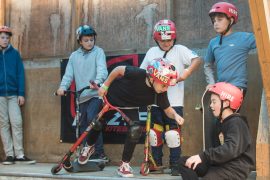 Ride all Friday for just £5 during term time if you are a member and £7 if you are a non member!
Yes you heard us. Ride from 11am on any Friday for just £5 or £7 if you are a non member. (excluding event days and half term) 
Thats 7 hours of riding 11am-6pm!!! 
You can come and go as much as you like or stay all day, its up to you.
No need to book just turn up and ride.
Any questions see our FAQ below:
* Do I need a disclaimer?
Yes, if you are not a member. If you are under 18 years of age then you will need a parent or guardian so sign you in; This can be done in store.
* If its a school holiday can I still ride for £5 all day?
No, this is a term time offer only.
* Can I hire a helmet or Skateboard/Scooter?
Yes but there is an additional charge:  £2 for Helmet or £4 for a helmet and scooter/skateboard
Still got a question, give us a call on 01793 523244.
See you there!!!!
Related posts