So we have the world's best dog at ATBShop. Her Name is Abbie and she is our meeter and greeter. She will happily lick you to death the second you step foot through the door and mug you of any spare dog treats which she may find on your person.
All the kids and adults love her because she is an all-round cool dog who will sit for a cuddle with the kids or have a wrestle with the adults!
Abbie use to come to work in the kite and board store on Faringdon road but since her owners opened the indoor skate park she decided that she'd rather be with all the kids.
Abbie is a rescue dog and came from a foster home in Essex. She wasn't badly treated or anything like that it's just her family lost their house in the recession and had to move into a rented house which had a ban on cats and dogs. Sadly the family had to give Abbie and their cat up for adoption.
Diana one of the owners from ATBShop, keeps a regular eye on the facebook page where Abbie came from and spotted Willman. Willman is a massive labradoodle and is in good need of a forever home.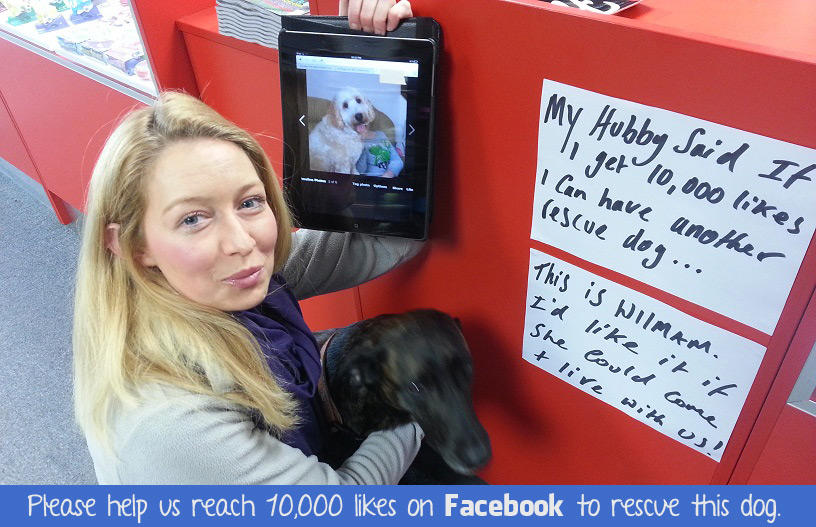 Stuart, her hubby keeps saying no when she asks for another play mate for Abbie but this time joked if she could reach 10,000 likes then she could have him!
Diana and Luke, one of her employee at the skate park set about a facebook campaign. Luke and Diana then up loaded a picture on to the Skate parks Facebook group!
In two days Diana's photo got 400 likes! But she was even more impressed by the amount of people who contacted her to ask how they too could re-home a rescue dog!
Diana hopes to rescue Willman and to save a few more dogs lives raising awareness for rescue dogs! Check out the article in the Swindon Advertiser!
In the meantime please either visit out facebook page and like and share her photo or come and say hello to Diana and Abbie the BEST dog in the world at ATBShop's Skate warehouse, which is an indoor skate park.
PS: If you have any more ideas how she can get some likes let us know sales@atbshop.co.uk
Related posts