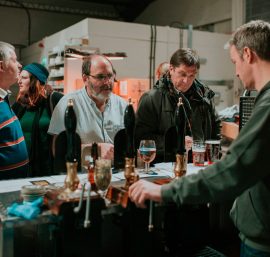 ATBShop is pleased to announce that it is teaming up with Hop Kettle Brewery to offer beer on tap at the skate park.
Sorry guys this is an April Fools Joke
But Hop Kettle's brewery tap is open 50yrs away from us every week Friday from 3pm to 9pm and Saturday from 12pm to 9pm for some super tasty beers
Yes thats right ATBShop is getting a new bar and its going to be amazing! So dad's you can grab a beer while dropping riders off.
Being only three doors down ATBShop had been in talks with the Hop Kettle – Swindon micro brewery about supplying the park since well before Christmas, but thanks to some incredible engineering below ground, and a new alcohol licence starting on the 19th of April (Urban Rider Games) its now all possible.
To keep the beer which is freshly brewed at Unit 4 Hawksworth industrial estate, at the correct temperature, pipes will run under ground though a unique piping system costing over £5,000. The system from Germany which uses the grounds natural temperature to cool the beer as it passes though.
Beer will then be served at the optimum temperature from 12pm daily until no later that 9pm at night making ATBShop an ideal place to relax.
To celebrate ATBShop is offering a free beer!!!
To claim your free beer simple email ATBShop before 12pm today explaining why you should be given a beer token for a free pint at ATBShop.
Email sales@atbshop.co.uk today to claim a free beer on us! Entrants must be over 18 years of age and not to be riding after drinking. Please email your full name and address and why you deserve a beer to sales@atbshop.co.uk before 12pm today.
Related posts