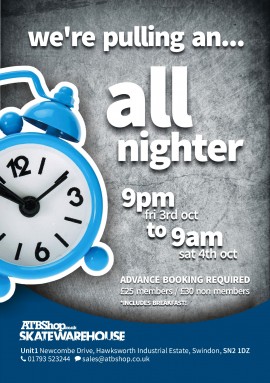 You've been asking for it and now it's here.. ATBShop Skate Warehouse is pulling an All Nighter and you're invited!
If you're over 12 years old, it's your chance to skate or scoot from 9pm on Friday 3rd October right through till 9am on Saturday 4th October… There's gonna be guaranteed fun all night with loads of games and competitions plus your ticket also gets you a midnight snack and breakfast in the morning!
The park can get cold overnight so make sure you bring warm clothes and a warm sleeping bag too, just in case you need a power nap to recharge during the 12 hour session!
Advance booking for this event is essential and costs just £25 for members and £30 for non members. Make sure you book early to secure your place, call us on 01793 523244.
Related posts