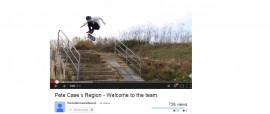 Our long time shop rider Pete Case has been killing it on the Swindon scene for a while now. He's a gangly armed mess of out of the blue tricks and hammers. Be it a slappy sesh or hucking himself down a nine stair, Pete kills it, on and off the board.
We recently filmed this video over two days, to celebrate Pete's most recent sponsor hook up, Region Clothing. A Marlborough based clothing company.
Check out Pete's Edit here, give a share and a like if you want.
Filmed and Edited by Luke Prout
Watch more of Luke's Videos by clicking here.
Related posts