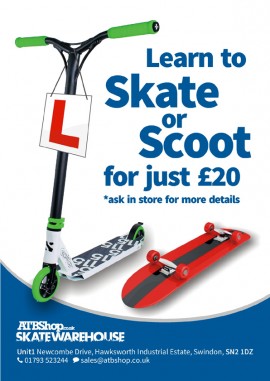 ATBShop has been running lessons since 2012 when we first opened our doors to the park.
Lessons are just £25 per person and run by our instructors on a one to one basis. These lessons last an hour but you can stay in the park after your lesson to continue riding for a further two hours to really practice those new tricks that you've just learnt.
You can book a lesson for a group of two riders for £35 or a group of 4-5 riders for only £70, including entry and two hours riding afterwards.
We run both scooter and skateboard lessons and booking is easy, simply call us on 01793 523244 to book a time suitable for you.
Lessons must commence at the start of the session to receive the full three hours in the park. Booking is subject to availability and must be pre-booked.
Related posts