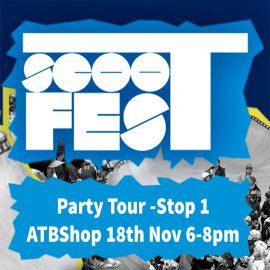 So following up from Scootfest 2019 ATBShop will be hosting the first leg of their after Scootfest party tour here at ATBShop on the 18th of November from 6-8pm.
So far confirmed riders include Richard Zelinka (District), Cam Ward (District), David Senkyr (Grit) and Niko Kylmala (District) – and hopefully Tom Green (Crisp) and Lewis Williams (Crisp). Yes that's right world riders from all over will be coming here to ATBShop and yes this is a massive deal!
During the event you'll be able to ride with the world pro's, watch demos, grab autograph's and photos and win mini fun comps.
Tickets will be £10 each and include a free BBQ meal! Booking is a must as this event will sell out!
Buy Event Tickets Here
Related posts