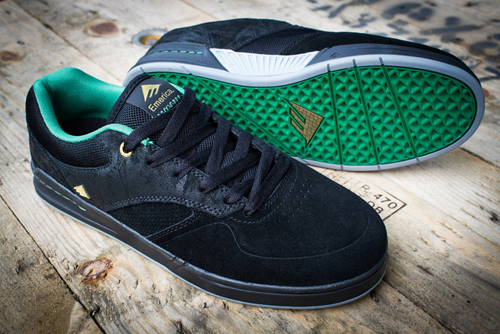 Emerica have already proven that their new slogan "higher quality" wasn't just all bark and no bite.
They've arguably released some of their best this year, with models like the G6 and the new Reynolds kiling it.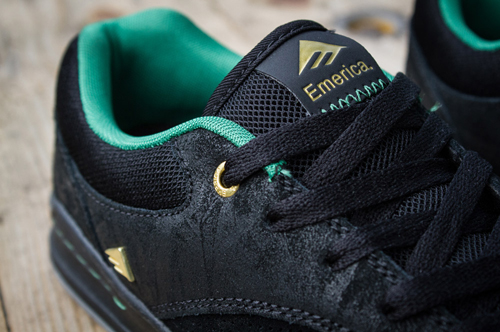 The Heretic is a makeover of one of Emerica's classic skate shoes, featuring updated styling and a slimmer silhouette, it's still kinda bulky but definitely not in a bad way. Along with Brandon Westgate's pro colorway, this shoe looks sick..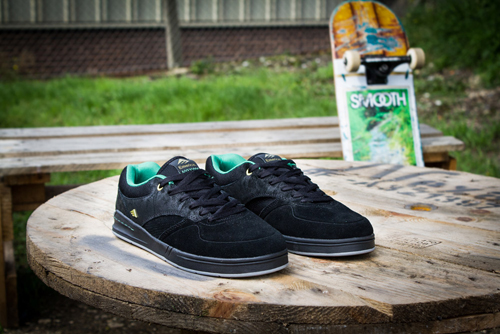 Shape: 8/10
The toe is a nice mix between too pointy and too round. The shape gives you a load a load of flick without focusing the griptape contact all to one place which increases it's longevity. The shoe is definitely on the longer side and you might want to size down half a size.
The ollie area is alot wider which i found helped control quite a bit, for a shoe on the thicker side of things it was refreshing to still feel like i could completely control my board.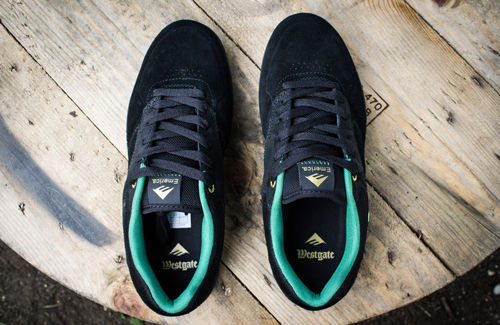 Protection/Breathability: 9/10
The Heretic features a lightweight, flexible cupsole with a full-length high-impact G6 high-rebound foam midsole and gum rubber outsole. The midsole is amazingly comfortable, it's soft but doesn't seem to flatten out on impact. I didn't skate any drops but you could tell these would look after your feet just great. I'm not a massive fan of the insole, it's thinner than alot of previous Emerica models and i'm definately one for insoles on the more "cush" side of things.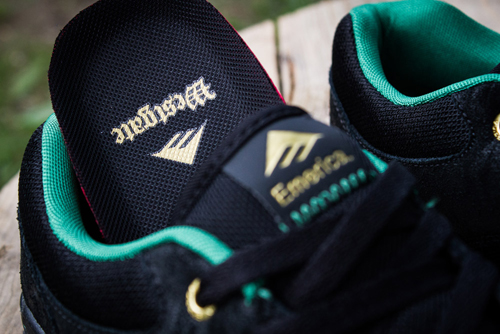 The heel cup doesn't really hug the heel but it certainly gives a lot of support in it's stiffness. The shoe held it's shape throughout me skating and hasn't sagged and turned into a saggy suede mess as some other shoes do.
The shoe also features a large mesh air vent on the inside of the foot, much like the one on the G6. I had no problems with sweaty feet which was a welcome novelty.
Durability: 9/10
Now this is where this shoe really comes into play. The original Heretic was the kind of shoe you only bought once, because it just would not die! And thanks to the great guys at Emerica, this shoe is true to it's heritage.
It features a reinforced toe cap which is the key to its durability, whilst i did put a hole in the suede within about five hours of skating (i was on a bit of a kickflip binge admittedly.) i can't see me going through through the toe cap any time soon.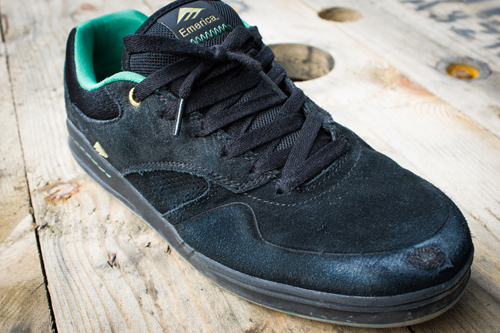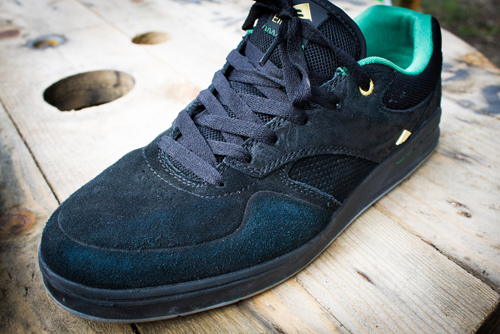 As you can see the ollie area has a large reinforcement and i literally so no way of getting through that. It held up great but wasn't so bulky as to cost me control.
The outsole was also really impressive, it literally doesn't show any sign of wearing, which is surprising for me, because that's usually the first thing i wear through. Using their Triangle Tread pattern and solid heel tread panel, the shoe provides maximum grip, better board feel and reduces the wear on the sole.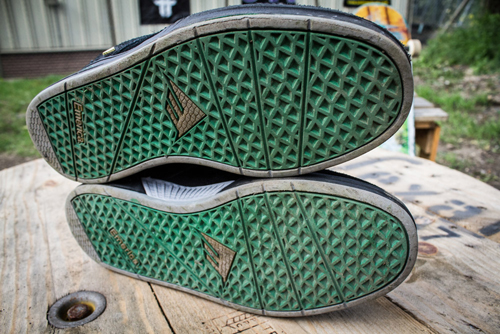 Boardfeel 7/10:
The one thing i found is that these shoes don't have the most boardfeel, which is understandable when you think about the amount of protection and how much tech is really in this shoe. It didn't really make any difference to my skating but definitely to a little getting used to.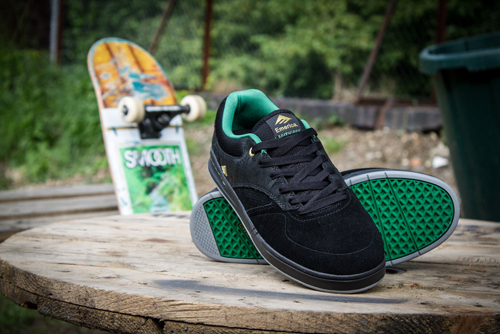 Overall 9/10:
I'm genuinely so impressed with these shoes, after about a week of skating, my sore old feet are feeling great for once and i'm noticeably more confident with tricks. The shape was something anyone could get used to and the durability of the shoe was more than impressive. Whilst the boardfeel was not the greatest it still offered more than enough to feel comfortable whilst you get your shred on. Overall i'd definitely recommend you get your hands on a pair of these beauts, let alone any of the Emerica range.
Looks great, skates great, what else could you want?
Related posts