Skate Warehouse Updates and Changes November 2016
Time Table and Price Changes
Next year will mark 5 years since opening the skate park. In all that time we've never increased the entry price, despite our costs rising.
Our insurance has gone up, the wood costs for maintenance have risen etc. We've also seen prices in store rise by as much as 15 % thanks to exchange rates. Although we've managed to absorbed these prices until now, as have most shops, we cannot continue without making some change. So with all this in mind, we are going to have to increase the price of our sessions, generally only by £1. Kids club won't be effected, neither will the after school prices. We are stopping the double session discount as this has proved to have been too costly. You can still get greater value for money by becoming a member and you will still save £2 a session, £4 on a double session and it's still only £25 a year to become a member!
Take a look at our updated skatepark sessions for all our changes. These new prices are active from 1st December 2016. We really hope that you can understand and that you'll all be supportive of us during these changes.
New 2016 ATBShop Birthday Party Packages.
We have simplified the Private Hire parties to make it easier for you to get the best value.
Our parties now start from just £160.
Package 1 = £160:
This gives you exclusive use if the park for up to 20 riders for 2 hours. In that package you'll also receive scooter, skateboard and helmet hire, unlimited squash, use of our tables and chairs and audio system. We also offer catering from £3 a head or 50% off Domino's Pizza. Alternatively we are still happy for you to supply your own food and drink. We have a cafe serving tea's and coffees from only £1 a cup.
Package 2 = £190:
You get exclusive use if the park for up to 30 riders for 2 hours. Still including all the above extras of hire equipment, tables and squash etc. But please be aware that we do only have hire equipment out for 15 riders and the remaining 15 will need to bring their own equipment.
As an optional extra you can have an instructor for you party. They will teach your guests how to ride for an extra £20 per hour.
To book a party call us on 01793 523 255
Please note that our Birthday Parties book up fast. Please try to book at least one month in advance to get your desired date and avoid disappointment.
By booking a party at ATBShop you'll also be entitled to 10% off any scooter, skateboard or protection before your party.
We believe that we are still the cheapest location in Swindon for an all exclusive private hire birthday party venue.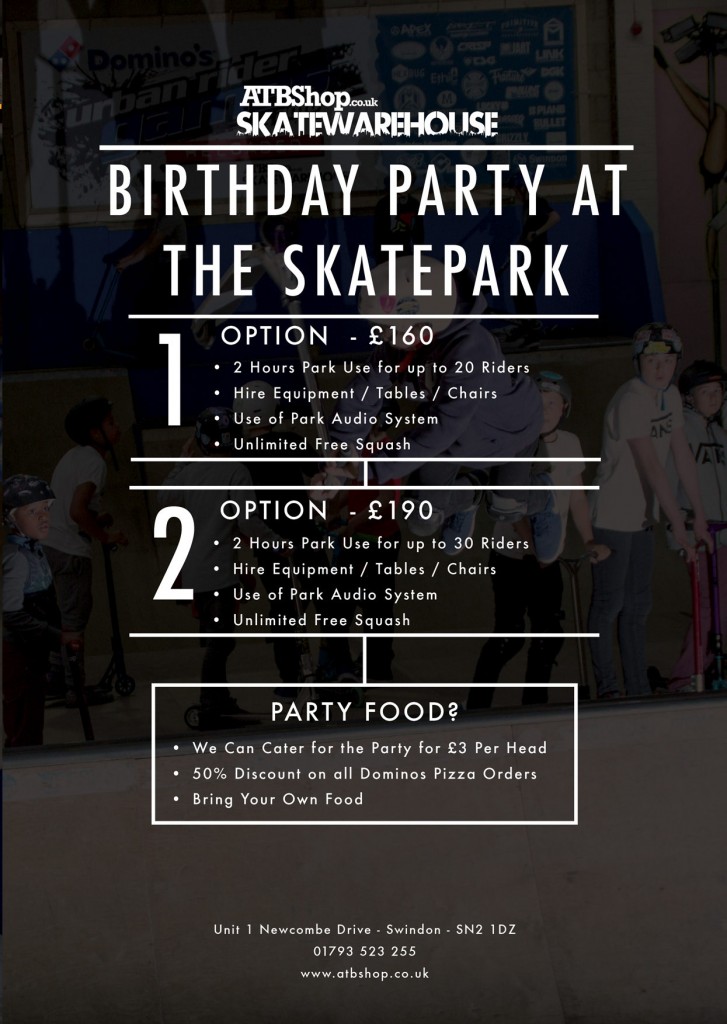 Related posts