Today we want to announce some news, and exciting news of the next chapter here ATBShop and ATBShop Skate Warehouse. Sad news is the skatepark is closing but good news is the shop is staying and moving to a new home in Swindon this November!
We will announce our new shop home shortly in West Swindon near the skatepark. But now have a look through our relocation sale as some great deals to save us moving stock!
11 years ago Stuart and Diana took a massive leap of faith and opened a skate park. We were advised by many this was the worst idea – it would be a massive financial burden, and would take over our lives. Despite the advice we took a chance. There had been a scooter boom and we'd made money so wanted to give something back to the community who had spent with us. It took months to secure buying the building, then months of hard work and money to have planning granted. Then months of work designing the skate park and a shop and tens of thousands to build a skatepark and a shop inside. We missed our first launch date and hit the next one opening on the 30th of September 2012.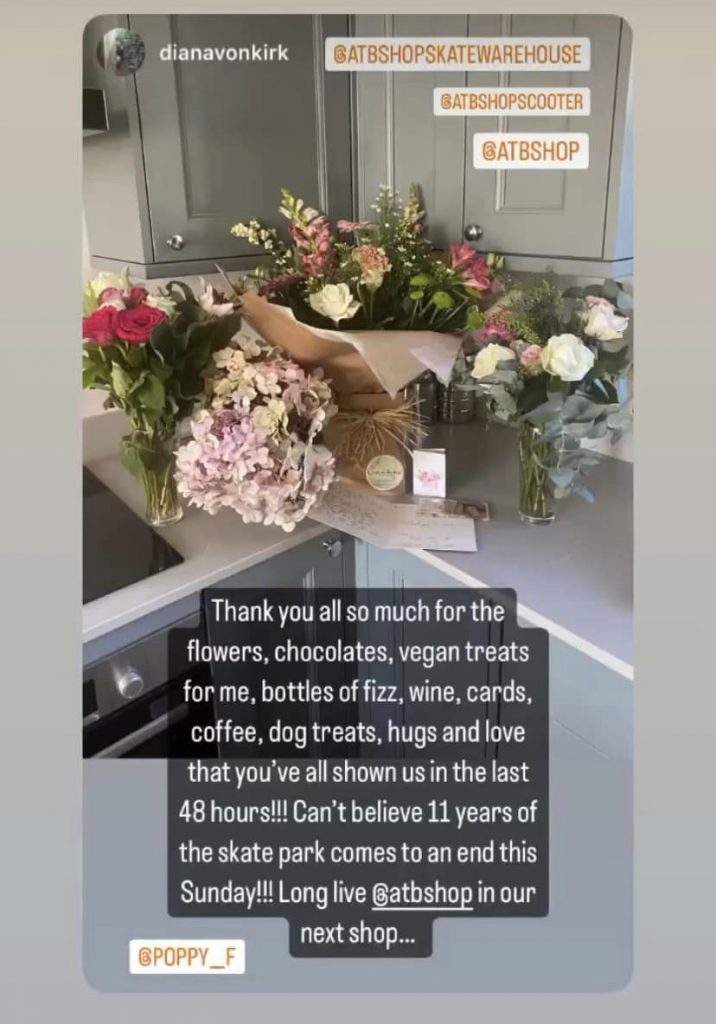 It's taken years of love to keep this place trading. Our parents have given their time and love to help run ATBShop. Peter and Margaret have run the cafe, built up scooters in our workshop area, helped to run the shop while we took holidays, walked our dogs at lunch, and have been there with finances when we've needed them. Now they are mid 70s we need to publicly thank them for being the best parents ever! Even Stuart's parents Jose and Ray running our accounts and helping us build ATBShop into what it is today – allowing Stuart to start a business up in his bedroom in 2000 has meant to much to us. Without their love and support there wouldn't be a shop – never mind a skate park.
Then the most amazing staff have come and gone and some have even returned. Over the years we've had the most amazing staff work for us. We've been so fortunate to have these people who've felt more like family then employees come and work for us. They've been kind enough sometimes to work for free to help us. Skate parks aren't big money makers after all. Too many kind staff to mention but Harry Calvert and Oli Little and Ursula Krenik have been the main part to our madness for many years. Running our accounts office, holding the sickest events – all nighters, team events, big party's… these guys have worked so hard to create you such wonderful memories. Harry a new dad recently, worked right up to the day his daughter was born this summer. Thank you to each and everyone – I don't have to name you because you'll know you've been amazing xxx Then there's all the ATB family who've helped over the years run our cafe, shop, made posters for our events in their spare time, hugged us and kept us sane. People like Sam Frith and Antony Wilson and Samatha and Chris Hallet. People who've supported our events like Tim Jones, Nathan Baker, Geoff from camp rubicon, Matt Brind… I can't list everyone but you know who you're. Thanks to every parent who has helped, or offered to help, taken upon yourself to offer love and acts of kindness to us. Wonderful gifts of thanks in forms of champagne, chocolate, beers!!!
We've had to many massive ups, incredible highs that have felt almost euphoric. There's been some massive lows, tears and huge amounts of loss and pain. We lost family, and friends sadly over these 11 years and of course Bruce last year Diana has personally really battled with my health also. Lots of you have seen her having no immune system has taken its toll working with children in a cold Warehouse. We battled on with events and free skate park events so you guys could all have a wonderful memory to live on with. That's what we all have tried to do here. Make magical memories for you all to look back on. Stuart has put up with a lot and god knows how he's not divorced Diana. He's been the drive behind ATBShop… the really boss! We want to thank him because he's been their though all the crazy ideas, kept us sane and has shown love is more thank just a word. Thanks to all of you who've been kind to Abbie. She's has had the best life ever a shop dog could ever wish for. Hugs, treats, games she's lived the best 14 years a rescue could ever wish for as she turned 16 this August! Bruce and Patchy also have enjoyed your love, fuss and attention.
We now have reached a part where we think it's time to say good bye to this chapter in ATBShop's history. We've been honoured to have you all over to our indoor skate park for the last 11 years. We've made it further than any other local park and even made it though Covid keeping everyone employed! An achievement we will always be proud of. The roof has now called time on this amazing journey. The roof at the warehouse needs replacing which will cost £££ and everything needs to be stripped out costing £££. This is the right time to say farewell and thanks. It's a heart breaking decision, and one that we've not taken lightly. ATBShop will continue as a shop in another location. There will be a massive relocation sale. There will be huge savings on stock as we relocate – moving will be costly so please come in and make an offer.
We are still finalising the next location (in Westmead, Swindon) but will remain at the warehouse for the next two months. The skate park will be sadly closed during this time but the shop still open. Please follow us on Facebook and social media as we venture into our next chapter. Thanks once again to everyone who has supported us and here's to the next ATBShop
ATBShop Skate Warehouse