How not to get bored at home with the Coronavirus
Are you ready for self isolation? Have you got everything you need to keep yourself mentally sane during a pandemic? We are here to help.
With a global pandemic on the rise and the UK on the verge of a nation wide shut down we believe a touch of sport and excitement in each others lives during this dark time will shed some light on the depths of self isolation.
For this reason we at ATBShop have come up with not just a list of products that will aid the mental battle of boredom over the coming few weeks, but activities that of course depend on the level of shut down we experience, that you can take part in that are naturally isolating to some degree.
With this in mind we must strongly advise that in some of these activities accidents can happen and with the current strain on the National Health Services, please take care of yourself and any others that you may be around when doing these activities as if you injure yourself there may be little to not help in certain circumstances.
So you've been told to stay at home, the X-Box is broken and you have been watching the same TV shows near enough on repeat for the last two days now. Well if you have been confined to the four walls of your home then we have a few things that will help the time pass:
The Balance Board
Simple, yet naturally exhausting and incredibly fun with and without the family around. A circular plank and a giant rolling pin has been our all time best seller this year and unless you have had a go at one yourself, its no wonder why! Great for your core fitness and tone your bum while in the house.The Body Glove Balance board will not only keep you physically active but it will build up your reactions and balance in no time at all. It is easy to master and hours of entertainment! Top present in Bear Grylls Christmas list recently too.
Check out our Body Glove Balance Boards HERE
The Slackline
Now Slacklining requires a little more patience to learn however once you have walked your first length you're instantly hooked! Slacklining isn't just walking a tightrope, its a combination of balance and concentration mixed up with trampolining. Yes thats right… trampolining! This sport can be as physically exerting or as relaxing as you choose! All that is needed is two solid objects to attach it too! Don't forget the tree skins!
Check out our selection of Elephant Slacklines HERE
The GoPro Vlogging experience
In this time of need the people are taking to the internet for entertainment, information and reassurance that everything is going to be okay. Having yourself a GoPro is a great way to channel your current experiences in the form of something creative. Vlogging stands for Video Logging which has essentially taken over online platforms such as YouTube and Instagram. Vlogging can cover an infinite amount of subjects and what better time than during a global crisis to get your story out there for people to see! Maybe you don't want to talk to the camera and record current experiences related to the Coronavirus. The GoPro can still be used as a creative platform to share positive in house experiences for only good memories to look back at during this time.
Who knows with all the auto editing apps you could be the next celebrity blogger of the future!
Check out our selection of GoPro Cameras HERE
The Tech Deck – A skatepark at your fingertips
Great for kids of all ages! For most of you adrenaline junkies and real life ramp-sports lovers this may be a minor compromise when it comes to getting out and doing something physically active. But hey, tiny skateboards and ramps that you can design, adjust and even modify in any way that you want can actually be a lot of fun and be a great way to pass the time. The Tech Deck actually has its own level of users that compete at a professional level so this could be the perfect chance for you to take up a new sport and "put your mind to something" as said so famously by our parents in younger years! The number one present this last Christmas and starts from £5 so very budget friendly.
Check out our Tech Decks and ramps HERE
Outside sports!
Now this is where you gain the chance to have some real fun and maintain a very physically fit lifestyle. Always see the positives in a negative situation I always say!
These activities below can potentially be restricted judging on our current lock down state inside the UK. If you are fortunate to have plenty of land to take part in these activities then this "lock down state" does not apply to you. However for those who live in the country side then you may be able to sneak out to a nice open field with nobody around other than the odd dog walker here and there.
The PowerKite
Anybody who has flown a two, three or Four line power kite will know that these things are endless amounts of fun to be had. Flying a kite is not only exceptionally good for your physical health but will also help you build on hand eye coordination and open up the potential for progressing in to many other disciplines of the sport including Kite Landboarding, Kite Buggying, Kitesurfing and even SnowKiting! There are many different types of kites to choose from so to keep it simple; two line kites are great for beginners but require another person to help relaunch (not great for isolation unless you are isolating together). Three lines are traditionally known as trainer kites and are great for beginners as well as independent flyers while four line kites offer a more powerful approach and also promote independent flying.
Check out our range of power kites HERE
The Stand Up PaddleBoard or SUP
What better way to self isolate than explore some of the incredible rivers or beaches this country has to offer and immerse yourself in nature! The Stand Up Paddle Board is by far one of the easiest sports to get to grips with (although the ocean can be pretty tricky in choppy waters!) and cost nothing more than the board and paddle to get you going! SUPing is great for you core and upper body strength not to mention the perfect choice of sports to distance yourself from others!
Check out our range of Stand Up Paddleboards SUP HERE
Skate & Longboards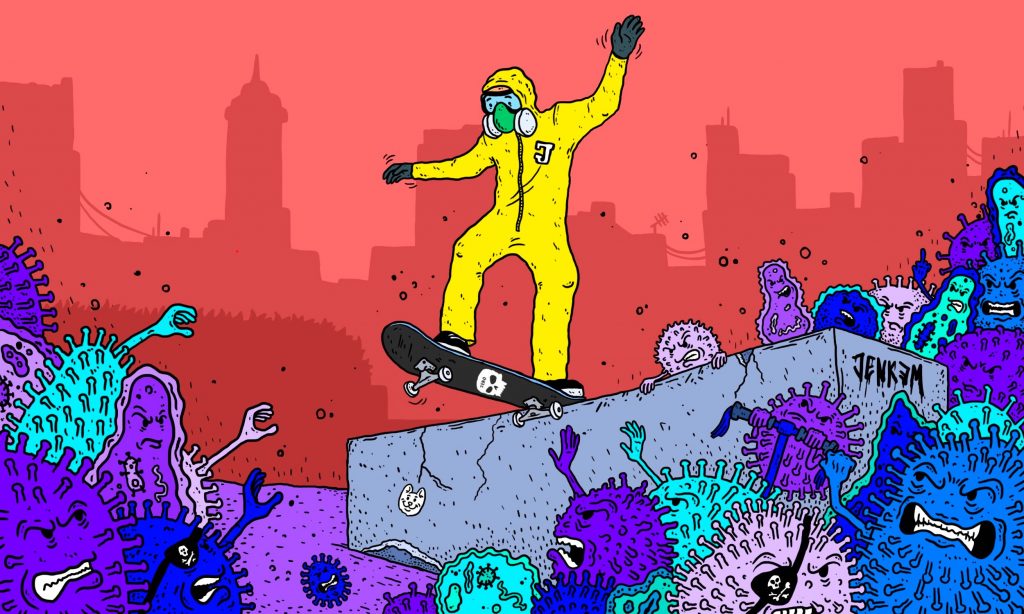 Skating is a form of self isolation as long as you are not fist bumping and hugging your mates. Great exercise and for your mental health. Just be sensible in the areas you are skating, the risk of injury in the trick and use sanitiser etc. Jenkem Mag has an awesome article on skating when the virus has hit.
If you need a new deck or parts then check out our online skate range which we try to keep upto date. Longboards and cruisers also in stock if you aren't into tricks and skateparks.
Check out our surfboards HERE
Kitesurfing
Now this is one sport that does require training prior and at least one other person on or off the water for launching/ landing and safety purposes. When kitesurfing our kites are flying at least 20 odd meters away which in turn physically prevents us from getting too close to any person or object. Now although the nationwide shut down has not yet taken effect, kitesurfing beaches are still open and kitesurfing (or any other watersports for that matter) is one of the most self isolating watersports there is. However that being said the sport can be pretty dangerous to be doing alone unless you are experienced and know what you are doing. For those just starting out in the kitesurfing world, for the sake of your health and the NHS, please do not go kitesurfing during this time. For those of you who are highly experienced and do choose to go out; take it easy and maybe consider ditching the wakestyle boots and implementing something more fun and playful with less risk involved such as strapless kiteboarding/ wave kiting.
Check out our Kitesurfing department for some great deals on kit HERE
Electric Mountainboard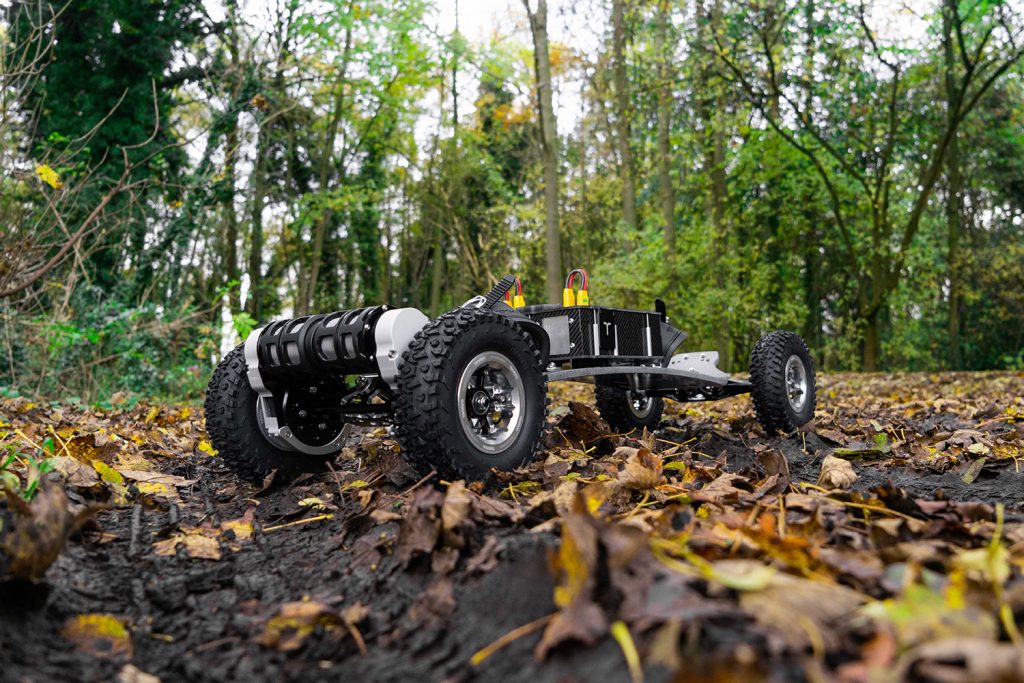 This is a new addition to our normal mountainboarding offering! Now we have taken things motorised and it's the perfect transport method if needing to be by yourself. Compared to normal mountainboarding then it's a bit lower impact as you have speed control and brakes. These Trampa boards can go upto 20miles range and upto 30mph. We have demo boards if you wish to arrange an isolated test drive demo.
Check them and the test drive info out HERE.
I hope this has given you some ideas to entertain yourself in this time that is hard for everyone. Please we can't express enough be careful and don't put yourself or others in danger as the NHS is already very busy.