After a summer of speculating & no GoPro Hero 4 rumors, we're finally starting to get wind of what to expect from the new GoPro Hero 4 range. GoPro have managed to keep the lid on rumors up until now! One of the first big changes is 4K recording at 30FPS which is a big jump from the current 4K 15FPS the GoPro Hero 3+ Black Edition is capable of; with more & more 4K displays becoming available to the masses, this is certainly the right time for GoPro to head in that direction. The new resolutions & frame rates are rumored to be 4K/30fps, 2.7K/50fps, 1440p/80fps, 1080p/120fps, 960p/120fps and 720p/120fps. It looks like GoPro is getting rid of the 240FPS option seen in the past.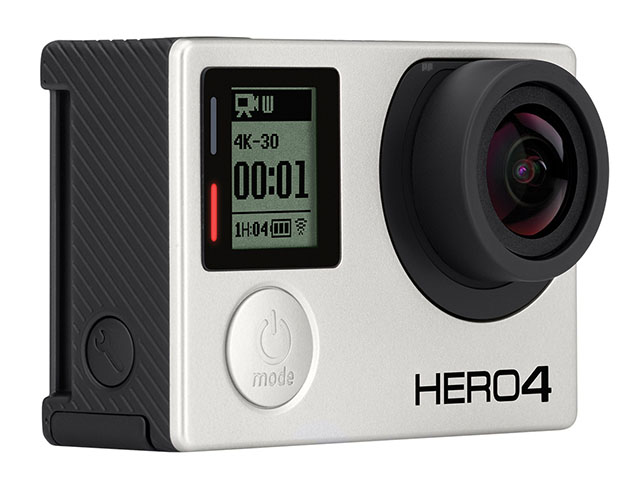 Leaks are also suggesting the inclusion of an LCD touchscreen on the new GoPro Hero 4 as well, although some sites are speculating this will only be included on the GoPro Hero 4 Silver Edition. Up until now you've had to connect your smartphone or tablet to the GoPro via WiFi in order to review any footage. This would certainly be very welcome addition & useful for all those situations where its just not convenient to start using your smartphone. Possibly one of the most useful features for the LCD screen would be for initial setup of your camera & making sure the mounting position is capturing exactly what you want!
We expect all the current GoPro Hero 3+ accessories to be backwards compatible with the new GoPro Hero 4 as it should be the same size as the current GoPro Hero 3+. You can check out our full range of GoPro accessories here.
Other features on our wishlist are improved audio quality, higher resolution images from the camera & better battery life (who wouldn't)!
More news is expected from GoPro themselves in early October 2014.
Now Available
The brand GoPro Hero 4 Black, GoPro Hero 4 Silver & GoPro Hero Camera are now available at ATBShop.co.uk